Add It Up: Enterprise Adoption of Kubernetes Is Growing
Dec 12th, 2018 6:00am by
Feature image
via
Pixabay.
A recently updated user survey from monitoring software provider Datadog confirms an increase in Kubernetes adoption. We believe this is the result of three factors: 1) more organizations using containers in production; 2) Kubernetes has emerged as the leading orchestration platform; 3) organizations are choosing to adopt Kubernetes earlier in cloud native voyage. There is also some evidence that Kubernetes adoption is more likely among organizations with more containers being deployed. This article highlights findings from several studies released in conjunction with KubeCon + CloudNativeCon North America, a Kubernetes user conference being held this week in Seattle.
Cloud Foundry's most recent survey of IT decision makers shows container production usage jumping from 22 percent in early 2016 to 38 percent in late 2018, with these deployments increasingly being described as "broad." The Cloud Foundry report also found an increase in the number of containers being deployed — in 2016, only 37 percent of container organizations had more than 100 containers deployed, but for today that figure rises to 47 percent.
Deploying containerized applications to production environments necessitated new management tools. In 2016, only 45 percent of those using containers in production were utilizing a container orchestration platform of any kind according to a The New Stack survey. Our 2017 survey saw that figure jump to 61 percent. Surveys conducted by the Cloud Native Computing Foundation in 2018 indicate that well over 80 percent of organizations utilize a container orchestration tool if they're in production.
Kubernetes is increasingly the first choice among container users, with Datadog reporting its use increasing from 22.5 percent in October 2017 to 32.5 percent in October 2018. That same data indicates that the non-Kubernetes orchestration options offered by AWS — Amazon Elastic Container Service (ECS) and Fargate — have also gained, but a much slower rate. If the trend continues, by early 2019 more AWS container users will be orchestrating with native or managed Kubernetes (AWS EKS) solution rather than ECS/Fargate.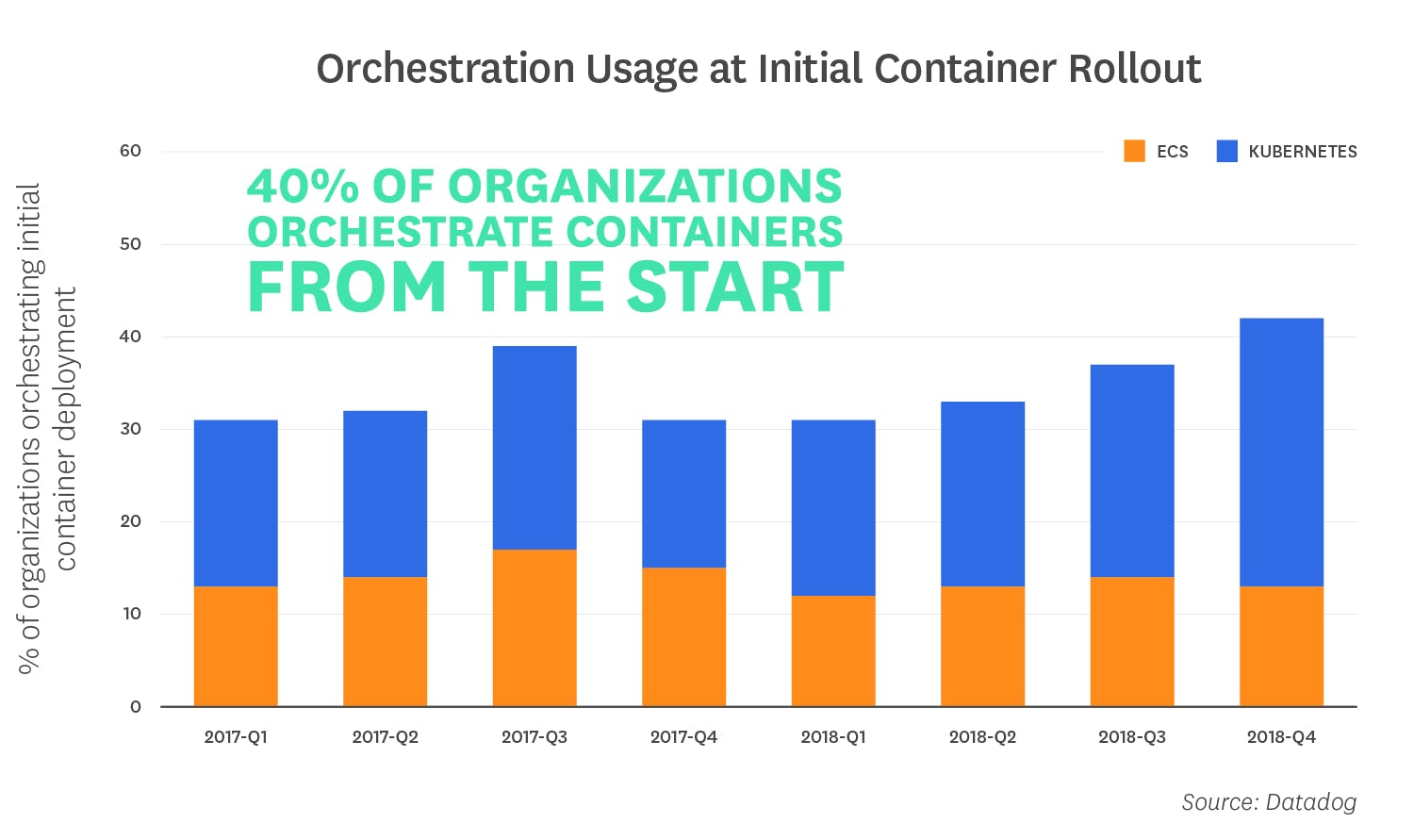 The reason for the relative jump in Kubernetes adoption is because more organizations are starting their container journey with Kubernetes as part of their toolkit. Tracking only organizations that recently started to use containers, Datadog found that 29 percent used Kubernetes as compared to only 18 percent doing so at the beginning of 2017. Staying at 13 percent in that same time period, AWS ECS has not kept up. This points to a divide between Kubernetes organizations and everyone else. Kubernetes organizations tend to be larger in terms of both the number of hosts they run, the number of containers running on those hosts and their number of employees. In fact, on average 14 containers operate per host on Kubernetes using companies, while that figure is half that for AWS ECS.
Although Kubernetes is being chosen earlier in the container deployment process, that does not mean companies are necessarily focusing on the internal talent or external companies they need to help the implementation. According to Heptio's The State of Kubernetes 2018 report, 41 percent of Kubernetes users say that architectural design is the stage of adoption they need the most help with, far surpassing those needing help with either deployment or day-to-day management.
In other words, cloud architect skills are a bigger pain point than either finding people to manage Kubernetes or a company that provides a containers-as-a-service offering. In fact, the pain points Kubernetes users face are often related to issues associated with architecting a cloud that can efficiently utilize existing storage and networking resources. Perhaps this is because these parts of the stack are more likely to be proprietary. In fact, two-thirds of Kubernetes users said they use proprietary storage software.
Heptio is a company recently purchased by VMware that provides Kubernetes services. Unfortunately for it, this top area of demand — design/architecture — is not something that most companies outsource. Only 10 percent of organizations say an external consulting firm is driving architectural decisions for their Kubernetes footprint. On the positive side, almost half of Kubernetes users seek advice from a consulting firm. We believe that one reason VMware is in a position to monetize this advice by providing consulting services at a higher level than the infrastructure team that is most likely handling day-to-day Kubernetes operations.