Blue Medora Expands Upon Monitoring Integrations
Plug-ins connecting to infrastructure monitoring systems just don't cut it at scale, according to Blue Medora, a Michigan-based company advancing the concept of IT monitoring integration as a service.
It focuses on providing deep performance inspection capabilities across disparate enterprise technologies by decoupling the data gathering and data analytics functions of IT monitoring systems.
"As environments become more complex — including hybrid and multi-cloud environments — we're seeing our customers looking for more than just siloed views into metrics. They are looking for context," said Nathan Owen, CEO and founder of Blue Medora.
Every year new platforms emerge with slightly different takes on how to monitor and analyze infrastructure health and performance data. Companies are adopting new monitoring solutions or supplementing old ones, combining them in different ways, according to Mike Kelly, Blue Medora Chief Technology Officer.
Vendors such as Datadog, ScienceLogic and Wavefront tend to be focused on analytics, but all require a similar suite of technology integrations, Kelly said. Blue Medora is focused on the integrations and feeding deeper information, which it calls dimensional data, to systems such as these.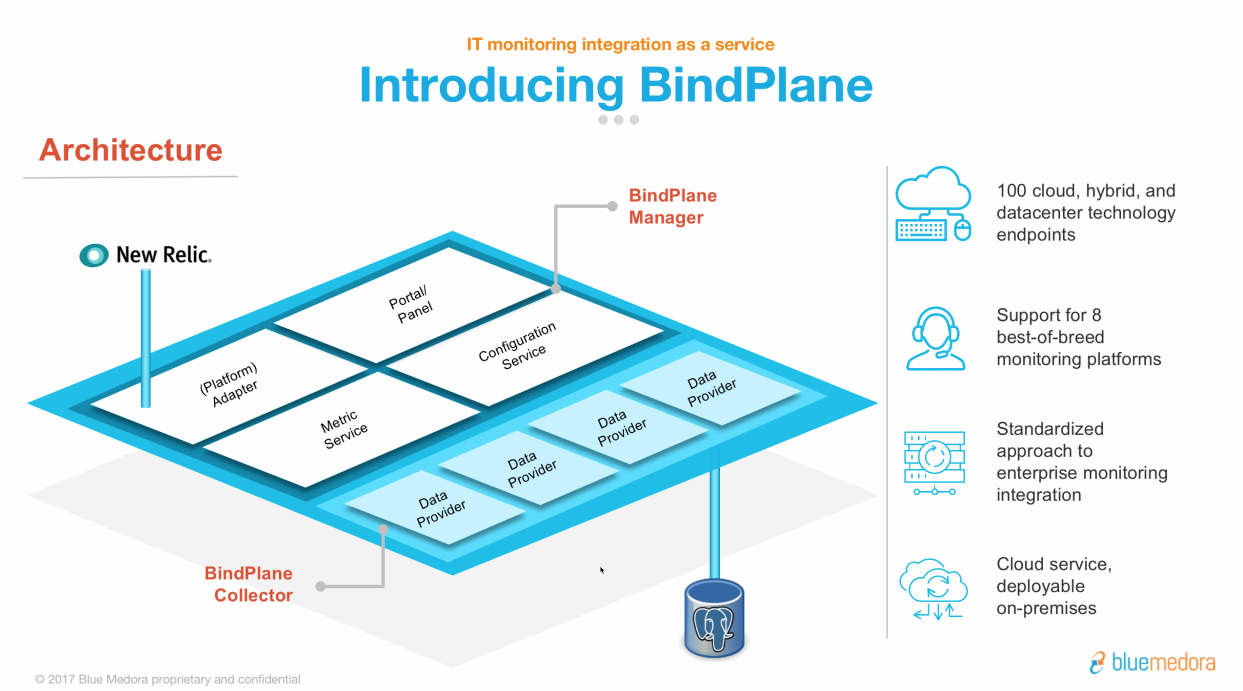 "Keen to speed delivery of ever more capable software, businesses are adopting emerging technologies and operating in increasingly complex environments. But they may lack visibility into those new technologies once they are deployed until or unless their monitoring platforms begin supporting them," said Nancy Gohring, senior analyst at 451 Research. "Solutions that address this problem by making it easier for businesses to feed data about the full breadth of their operations to the monitoring tools of their choice should help improve insight into performance."
Kelly explained dimensional data this way:
"If Datadog builds an integration for a Postgres database, they may have 20 performance-related metrics on that. It's not linked to anything else, it's just standalone, it's up to you to figure out everything else. The way we would build it out, we would monitor for all the components of Postgres database. We build up an object model that represents it. So it's not just 20 flat metrics, it's 'What's the performance of the server this is on? What's the performance of the individual databases that exist inside of this? How does this database relate to other objects in the environment? Is it running on EC2? An RDS instance?' You want to link all those things. We're building the relationships into a model that links all those things you're attempting to monitor."
One-to-Many Integrations
Based in Grand Rapids, Blue Medora was founded in 2007, and for its first five years focused on building integrations for IBM, such as to the Oracle stack.
Its latest product, BindPlane, is an evolution from those one-to-one integrations to a platform covering multiple integrations. The company supports more than 100 integrations and eight monitoring platforms.
Big vendors like AppDynamics or IBM have about 200 technologies they care about, 80 percent of which have some type of change or refresh every year, Kelly said. About 20 percent are new or retired.
"When a company tries to build this out, they're spending 20 to 30 percent of their platform costs just maintaining those integrations. This is a major pain point for platforms," he said.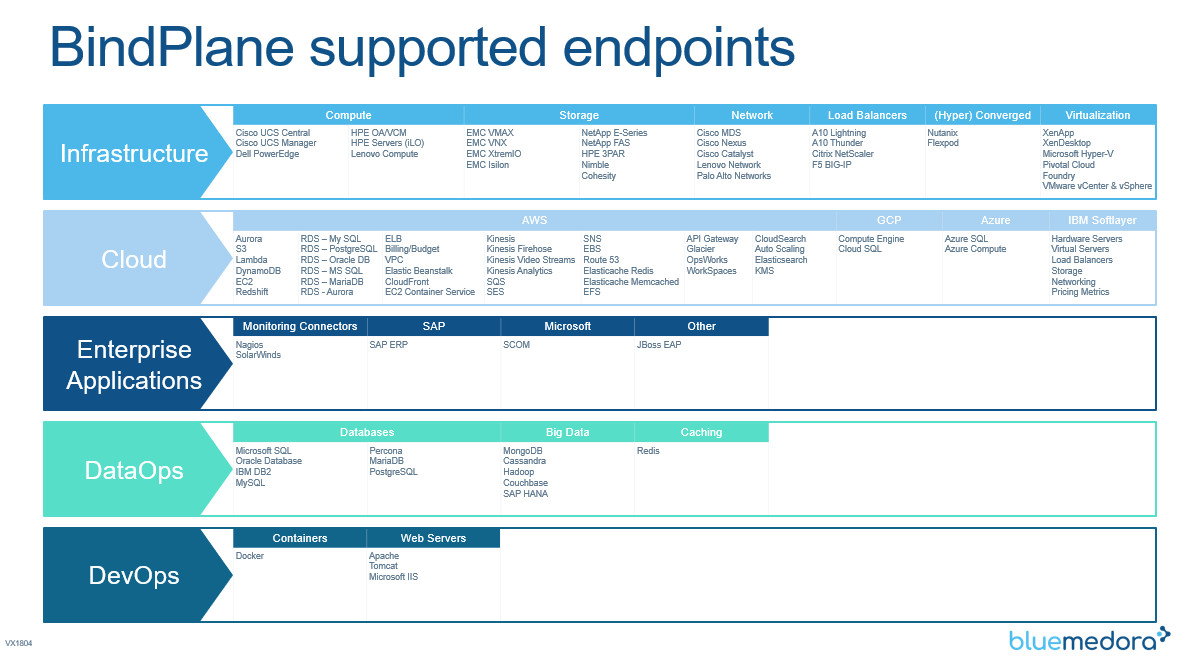 In the past five years, it's been developing libraries for data providers and integrating them with the platforms. As more platforms come online, many of them are very early and need the same 100 to 200 integrations. So it's developed an entire collection layer that completely decouples collection from analysis. Blue Medora is focused on collecting the data and sending it to the monitoring system.
BindPlane is an evolution from those one-to-one integrations to a platform covering multiple integrations. The company supports more than 100 integrations — it calls these endpoints, such as more than 30 AWS services, Microsoft Azure, Google Cloud, IBM SoftLayer and Docker — and eight monitoring platforms.
It's a standardized, cloud-first approach for enterprise monitoring integration, but deployable on-prem, Kelly said.
He calls BindPlane a significant simplification for both the vendor and the user in terms of what has to be installed and maintained. And because new vendors don't have to build out connectors themselves, "a new platform [can] leapfrog in terms of what they have to do to support customers with enterprise-ready extensions. It is full-stack from the application down to infrastructure and IoT endpoint potentials."
It provides the ability to see where each endpoint resides in the stack, what it connects to and how it affects other endpoints. And it provides internal and relationship data about components.
BindPlane has two parts: the manager, which is the web UI and web service, and the collector. A single collector is installed inside a customer's environment. It contains everything it needs to communicate with all the components in the environment. Once it's configured, it links to the monitoring platform like New Relic through an API. It will automatically update itself and doesn't require the user to modify a config file and integrations at the server level — BindPlane manages that. The customer with Postgres databases, for instance, enters [configurations] through the web UI, they get downloaded automatically and gather data from the endpoint. Then all the data is streaming through their system and to New Relic.
"Because we focus on this and only this, we often have zero-day releases," Kelly said. "[Collectors] are constantly being updated so that 80 percent change, we're able to keep up with that."
The company's customers include Freddie Mac, Delta Air Lines, Anheuser-Busch, Wells Fargo and Turner Broadcasting.
Calling this a new market segment, Gohring foresees it being attractive to vendors more so than enterprises. Blue Medora faces challenges in that some vendors differentiate themselves on the number and depth of technologies they support. Datadog, for instance, supports around 200 integrations, she said, while Blue Medora plans to keep adding to its portfolio.
Its best opportunity, according to Gohring, may be around building integrations with niche technologies and helping vendors support their customers' use of those niche technologies.
Blue Medora is a sponsor of The New Stack.
Feature image via Pixabay.