Canonical Shakes up the Market for OpenStack Distributions
May 25th, 2018 2:57pm by
The market for OpenStack distributions is ripe for some disruption and commodification, at least in the eyes Canonical founder, Mark Shuttleworth, who shook up the audience in a talk on the subject at the OpenStack Summit this week in Vancouver.
Right now, marketing around the open source private cloud platform suffers "future-itus," as he called it later, in which the benefits of OpenStack are enumerated at length, but the bottom line — the actual cost of deploying OpenStack — is not. And this makes CXOs wary of taking on private cloud projects with no clear forecast of costs, Shuttleworth argued. So, he discussed numbers and did cost comparisons of Canonical OpenStack against two of largest players in the space for private cloud software, Red Hat and VMware.
Many were taken aback by Shuttleworth's blatant self-boosterism, arguing that the pricing model is too simplistic, and doesn't take into account the true diversity of OpenStack deployments.
"It's attention-grabbing showmanship on some part from Mark Shuttleworth," said Mirantis co-founder and president Boris Renski, himself no novice to commanding the spotlight.
But, if nothing else, the talk may spur competitors to sharpen their thinking about where their own distributions fit into the larger ecosystem.
The Bottom Line
To hear Shuttleworth tell it in the keynote, Canonical has taken on the mission of "removing all the friction in getting OpenStack up and running."
"We have the ability deliver OpenStack anywhere in the world, in less than two weeks, with fewer than two people," Shuttleworth boasted. "If we can do that, economically, you can operate it economically."
.@Canonical's @sabdfl: Canonical's #OpenStack distro costs about 1/2 half of @VMware's and 1/3rd Of @RedHat @openshift … it can be set up in less than 2 weeks by 2 people. #OpenStackSummit #keynote. pic.twitter.com/gsvWIa8OS7

— The New Stack (@thenewstack) May 21, 2018
This is a pretty audacious claim given the reputation has had for being difficult to deploy and maintain. Last year, Canonical did "tens" of deployments (Not bad work, actually for cutting-edge enterprise software), and this year the company has been talking with more than 200 organizations about possible future deployments.
Shuttleworth even went as far as to include a full pitch in his presentation, just for OpenStack Summit attendees — a rack of Super Micro servers with Canonical's OpenStack distribution pre-installed, all for only $300,000. "Everything you need for a highly-available OpenStack deployment," Shuttleworth promised.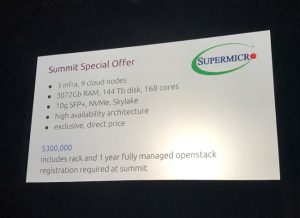 He also made some bold claims against other OpenStack distributors, particularly VMware and Red Hat, Shuttleworth asserted that Canonical's OpenStack deployment can cost half of what it cost to procure VMware's and a third of Red Hat's.
This last assertion generated an audible groan from the audience — The Red Hat exec we sat next to immediately starting composing a text to other Red Hat'ers with pointers on how to respond to Shuttleworth's claims.
Beyond the sales pitch, there was a larger purpose behind his provocation, Shuttleworth explained in a follow-up interview.
"I really wanted to press the point that for OpenStack to be successful, its audience has to be the business that owns the infrastructure," he said. In other words, Shuttleworth's bluster about cost was a direct message to the COOs, CIOs, CTOs and CEOs, rather than to the developers. Such folks have to make the decision of how many data centers to maintain versus how many cloud services to use.
"The economics of the data center will ultimately determine whether or not the data center thrives," Shuttleworth said. "If the economics of the private data center are blown out of whack, either because they are licensing too much old school pieces of enterprise software, or because they are not operating them in a totally automated way, then the CIO will simply discount or remove the data center from the equation."
In Shuttleworth's view, Red Hat and VMware have not cognizant enough of this factor.
"I can only comment on what we do well," said Radhesh Balakrishnan, the Red Hat general manager for OpenStack, when asked to respond to Shuttleworth's assertions.
"We are seeing more and more customers embracing the rest of the stack," he said, noting that Red Hat has amassed over 500 enterprise deployments of its OpenStack distribution across the globe. In other words, it is not just about installing OpenStack on its own; it's about fitting the software in the entire stack for the hybrid cloud and solving all the integration headaches that come with doing that. After all, Red Hat has Ceph for storage and OpenShift for Kubernetes and for standing up a platform-as-a-service. And they all work well together, a Godsend for already overworked system administrators. There is a 35 percent overlap between users of OpenStack and OpenShift, for instance.
"That's the higher-level conversations we are having with CIOs," Balakrishnan said. It's about the portfolio for the hybrid cloud, not "just playing a specific role in a specific sub-market."
The outstanding question for Canonical if it can provide the same support as Red Hat or other enterprise vendors. Does the company do any security hardening of the software? Does it contribute to the upstream development of OpenStack? Historically, Red Hat engineers have contributed far more to OpenStack than Canonical has.
Embrace the Chaos
Certainly, there is a certain set of enterprise customers that may just want a pure upstream version of the software, along with the blessing of a major vendor. In such cases, the cost of the software itself can then be a major driver in the decision process. "In some cases where that is needed, then go Canonical. If you want someone who delivers a solution to you, then go with Red Hat," Mirantis' Renski said.
The issue of how long it takes to install OpenStack is a bit of a red herring, Renski went on to say. The installation itself is not a long process. Really, one a single person can copy all the OpenStack bits onto disk in an hour. "In that sense, he is not lying," Renski said of Shuttleworth.
But this definition of "installation" may not include all pre-installation prep work that may be needed — all the chores external to the copying of the bits onto disk, such as configuring and testing the hardware, installing the drivers, or writing the drivers if they don't exist.
Mirantis has found that the entire process of wedging OpenStack into the infrastructure is rarely an easy job, however. In fact, two years ago, the company made some headlines itself by announcing that it was exiting the market for selling OpenStack distributions, and focus its efforts of creating and then supporting custom stacks for each customer instead.
"This is what customers pay money for with OpenStack," he said.
Such customization is needed because with OpenStack, "You never deal with the same thing everywhere." The company had found that each of its large customers had very different reference architectures. A telecommunication firm would have a very different setup than the enterprise.
"Everybody has their thoughts about how infrastructure should be done," Renski said. "They have their own hardware, network configurations, storage preferences." OpenStack is the element that ties everything together, but there is rarely "general-purpose" cloud, and those looking for a vanilla private cloud might very well be better served using a public cloud or a stack of VMware software.
So Mirantis moved to a "build-operate-transfer" model, which Renski says is different both from the Canonical model and the Red Hat model. The company has built a continuous integration system to declaratively model a specific OpenStack environment, which helps install and upgrade each instance. The company creates the environment, sets a service-level agreement, runs the deployment for a year, and then gives the customer the option of either taking it over, or continuing to contract Mirantis for support.
"We had to learn how to give our customers what they wanted, at the same time to do it in a fairly scalable way," Boris said. "It took us about five years to get to that state."
A Bifurcation of the Ecosystem
Behind the inflammatory rhetoric however, Canonical's headlong jump into this market could help clarify the value propositions of other OpenStack distributions.
VMware declined to respond to Shuttleworth's claims, though the company gave us a briefing before the OpenStack event, in which company execs explained how the VIO fits into the overall ecosystem.
Like other commercially-minded distribution providers, VMware focuses a lot of energy on preparing the software for telecommunications service providers, one of the largest users of the software.
The latest release VIO-5, "really pushes the boundaries on the telco side," with many new features on the networking and monitoring side, said Gabriele Di Piazza, VMware vice president of solutions for telecommunications solutions. Network-centric, the package is tightly integrated with VMware's own NSX switching infrastructure, as well as with Network Functions Virtualization (NFV), a set of protocols for more fluidly controlling resources, which telcos are sensing the need for as they upgrade their networks to 5G.
"Behind 5G, there are substantial changes in the network topology. Applications will become network applications, and become more and more distributed at the edge," Di Piazza said. To support the edge, the VMware OpenStack group came up with what it calls "VIO-in-a-Box," a set of features to run OpenStack on a single server, designed for small form-factor deployments. VIO-5 now supports multi-control planes, as well as the ability to coordinate workloads across multiple regions.
For its part, Red Hat continues to cater to the needs of the enterprise. The latest version Red Hat OpenStack is the second release with long-term support—the first was version 10 released three years ago. This work takes advantage of new built-in capabilities within OpenStack itself that allow users to skip over releases when upgrading, Red Hat's Balakrishnan said.
At present, OpenStack is updated every six months. Enterprises rarely can upgrade their software that quickly, however, bedeviled as they are by myriad compliance, security and interoperability tests. The LTS releases, which provide bug and security patches for this extended period of time, provide a way to put OpenStack on this slower schedule, without forcing them to do a set of serial upgrades to get to the latest version.
"For OpenStack to have a future, private data centers need to be economical." — Mark Shuttleworth
Canonical itself is focusing on making its distro "leaner, meaner, more up-to-date, efficient" than others choices, Shuttleworth said. The company is making a point to deliver pure-upstream OpenStack, without a lot of extra cruft. "What we focus is keeping the operations on rails, making it the easiest distribution to deploy and operate, which makes it the most cost-effective distribution to run."
To help, the company has focused its engineering efforts very heavily on the lowest layers of OpenStack, the software that enables bare-metal deployments no matter the hardware. The distribution also "has a lot of flexibility in how you architect the OpenStack, but allows for perfect reuse of all the code for upgrades and operations."
"We essentially take full responsibility and the business doesn't have to guess how much it is going to cost," Shuttleworth said. "They know up front how much it will cost upfront."
The OpenStack Foundation, Red Hat and VMware are sponsors of The New Stack.
Feature image: Canonical's Mark Shuttleworth.