Canonical's New Services Go Wide and Deep on Enterprise Kubernetes
Sep 18th, 2017 2:00am by
It's an interesting time, in a Chinese curse kind of way, to be a small or mid-sized organization interested in joining the virtualized container revolution. Containerization, with its promise of making software deployments straightforward, repeatable and fault-tolerant, is incredibly alluring to businesses of all sizes. Unfortunately, recent surveys report that 68 percent of enterprises find a lack of developer experience with containers hinders their adoption. The sector is new enough that finding best-practice guidelines and outside expertise for Kubernetes — across both private and public cloud infrastructure — can be difficult.
Now, however, Canonical — the company behind the Ubuntu open source operating system — has announced two consulting packages aimed directly at closing the containerization chasm for companies light on staff with PhDs in kernel technology. Canonical's Kubernetes Explorer and Kubernetes Discoverer packages offer, at two different levels, turn-key solutions for rapid deployment. The company has simultaneously expanded enterprise support to include serverless infrastructure from Galactic Fog, container management workflows from Rancher, and WeaveCloud monitoring and management applications from Weaveworks.
"In both our Explorer and Discoverer initiatives we offer anywhere from one to four days of training, both virtual or onsite, to any size audience in order to help transfer knowledge for building quality containers in production environments," said Marco Ceppi, product manager for Kubernetes at Canonical. "Canonical Kubernetes is transforming how our customers host scale out, cloud-native workloads, with an emphasis on portability across public clouds and private infrastructure."
The difference between the two packages comes down to how much Kubernetes your organization needs:
Kubernetes Explorer covers Kubernetes on a public cloud, private cloud or VMware. It delivers the reference architecture at $15,000 including training and deployment, with optional consulting for workload analysis or to assist in the creation of CI/CD pipelines in support of everyday operations with containers.
Kubernetes Discoverer broadens the offering to include bare metal operations. At $35,000 it includes specialist consulting to optimise the architecture for particular workloads, together with hands-on training delivered on site. The Discoverer package provides the opportunity for deep integration and customization of storage and networking options.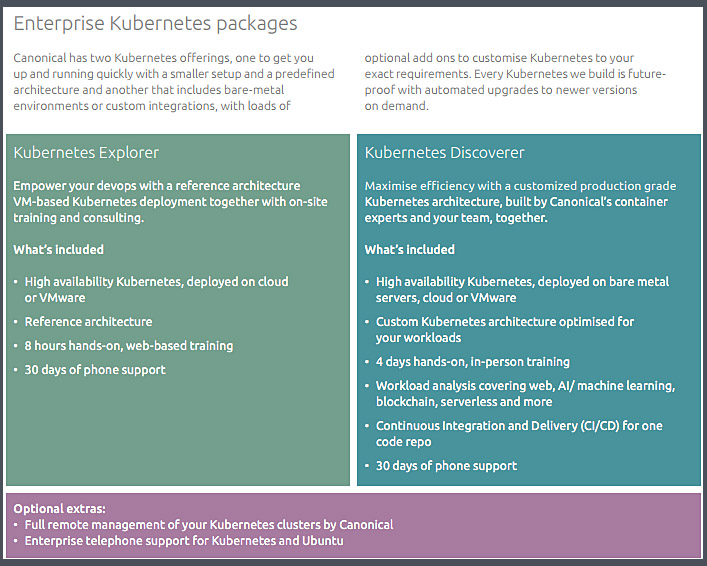 "Canonical has embraced containers from their genesis, so we can provide a large breadth of expertise," Ceppi said. "Both packages come with multiple in-depth guides and abundant documentation to help continually feed answers after the initial engagement."
Furthermore, Ceppi said, Canonical works with AWS, Azure, Google and Oracle to optimize Ubuntu guests for containers on those clouds. The company also works with Google GKE to enable hybrid operations between enterprise deployments of Kubernetes and the Google SAAS offering.
"When it comes to expertise for public/private/bare metal deployments, Canonical offers the option to turn any cluster into a remote, fully managed, Kubernetes cluster. This allows an organization to run and operate a cluster quickly. We can manage these clusters indefinitely, or transfer operations once the experience and knowledge has been cultivated in-house," he added.
The container sector is growing by leaps and bounds, and some of those leaps are offerings from a whole slew of other companies aimed at lowering its well-documented barriers to entry. According to Ceppi, however, Canonical's Kubernetes offering, however, takes initialization, support and performance to an unmatched level.
"We provide an unmodified upstream Kubernetes binary," he explained. "Our standout is how we operate and maintain these clusters — our focus is on how to operate and manage the lifecycle of these infrastructure layers." Thus, he continued, Canonical's offerings go far beyond simply setting up a K8s cluster: "We perform common operational tasks like automatically upgrading to new versions of Kubernetes, scaling nodes in and out, and backup and disaster recovery — and we're able to do all this in an automated fashion across all the major public clouds, private clouds and bare metal."
To date, said Ceppi, Canonical's performance has not been matched. "We are the only company able to target such a large selection of substrates in a reliable and supportable fashion. We provide tested upgrade paths between versions of Kubernetes within 5 days of upstream."
Friends with Benefits
Canonical's Kubernetes implementation comes with a wide range of partner offerings, including serverless infrastructure from Galactic Fog, a container management platform from Rancher Labs, and Weave Cloud from Weaveworks.
"Innovation is shifting up the stack, and Canonical is delighted to partner with these great companies to enable enterprise serverless infrastructure on every cloud," said Ceppi. Galactic Fog was tapped to provide an open source and multi-cloud solution for serverless computing "operable at any scale and seriously easy to integrate," while serving as a stable and efficient base for the "best-in-class" Rancher container management system. In addition, Weave Cloud's comprehensive management and monitoring solutions deliver a "powerful and efficient platform for DevOps practitioners to deploy and operate sophisticated apps on any infrastructure."
Canonical's new Explorer and Discoverer packages are designed as turn-key solutions because, Ceppi said, developers want to focus on launching new apps and improving existing ones — not conquering the learning curve of building out new infrastructure.
One recent example of how our Explorer and Discoverer initiatives solve this problem was for a media company in Europe. It provides streaming services and applications to its customers in Spain, so its need to remain focused and agile to compete in their market. Canonical was able to provide and build an entire production Kubernetes cluster using the Discoverer plan in less than two weeks' time for the company.
From a container perspective, Ceppi pointed out, Docker was born and for a while, only available on Ubuntu, and Canonical and Ubuntu have continued to prove their weight in the space.
"The truth is, the qualities that make Ubuntu a popular Linux and cloud operating system are the same qualities that attract the container crowd," he concluded. "We have a concise release schedule, providing a stable platform of the latest Linux kernel and user-space software."
All contributing reasons why Canonical's Ubuntu images are among the all-time top five images pulled in the public Docker Hub.
Feature image by Chris Lawton on Unsplash.