China Railway's Private Cloud Infrastructure Provides a Roadbed for Business Growth
Mar 2nd, 2018 8:45am by
Building and managing the world's largest railway network on the open sourced OpenStack suite of technologies is fundamentally changing the way China Railway thinks about its business, and, as lead architect Mingxing Gao, points out, has implications for any large traditional enterprise looking to move to cloud infrastructure.
Between 2010 and 2016, the China Railway has seen massive growth across its operations: with operating mileage jumping 30 percent and passenger volume increasing from 1.67 billion passengers in 2010 to 2.81 billion in 2016. Like in many countries, railways are not just about transportation, but are the literal drivers of the economy: moving freight, workforce and tourism daily to ensure the rest of a nation's economic and social fabric is serviced.
"We have an expression: keep your rice bowl in your own hands" — Mingxing Gao
Gao, speaking at last year's OpenStack Summit in Sydney, drove the development of SinoRail Cloud, China Railway's private cloud infrastructure to manage the country's massive railways growth, and to deliver a 24/7, robust application environment. Gao — first prize winner, and three time second prize winner of the Ministry of Railway's science and technology progress awards — has been managing SinoRail Cloud's development since 2004, and says the learnings are applicable to large enterprises looking to move off mainframes and into the cloud.
One of the major transferable learnings, he says, is the choice for a private cloud infrastructure. "We have an expression: keep your rice bowl in your own hands," he said. Creating a private cloud environment using OpenStack gives enterprise the security and autonomy it needs, he recommended. "We used cloud-based software based on OpenStack so it is secure and controllable," he said.
Choosing a private cloud approach also allows China Railways to foster new value creation at the speed of new technologies.
Gao said the design of China Railway's technology backbone was built on the industry standard of infrastructure-as-a-Service (IaaS) and platform-as-a-service (PaaS), using a nanotube model to enable connection not only with third party vendors like VMware and IBM for virtualization, but at large function points that link various storage architecture.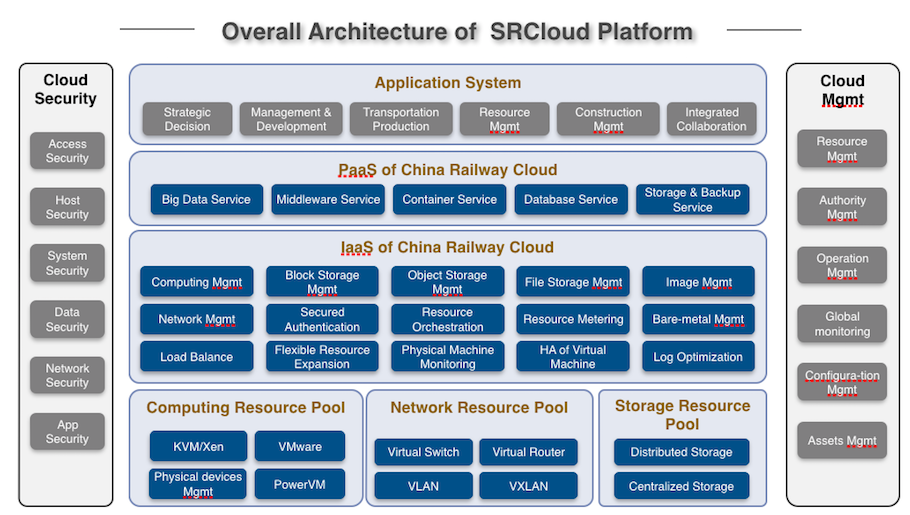 When building its private cloud stack, Gao leveraged an R&D partnership model that is still in place today. Working with OpenStack vendors like China's T2Cloud gave the transport behemoth a learning velocity that would not have been achievable on its own. With the speed at which new cloud technologies are developing and the need to manage a 24/7/265 operation, working with an external tech partner meant they could learn from each version release, conducting around 1,200 test cases each time.
SinoRail Cloud has 800 physical server nodes and runs 100,000 virtual machines. "This is something unbelievable, but we do it," said Gao.
Like Deloitte's serverless work with Amtrak in the United States, SinoRail Cloud's private cloud infrastructure has enabled the creation of more real-time data applications. Gao pointed to flow estimation, which improves the overall efficiency of the network, and China's locomotive remote monitoring and diagnosis system, which is now in production and manages around 5,000 trains, using wireless transmissions and satellite navigation to not only monitor in real-time the positions of the trains, but allows interaction and status checks from central headquarters.
Running on cloud infrastructure reduces energy consumption by about half, said Gao, who calculates a 46 percent savings over their previous bare metal approach.
While Gao can point to these kinds of cost savings, faster application development and newly optimized performance of operations and monitoring as key wins from their migration, the real benefit is in the new mindset that is emerging at China Railway now that the cloud technology fabric is in place. Gao said the new thinking at China Railway is to see themselves as a market-oriented business that is able to develop new use cases and business streams. Gao argued that wouldn't be possible without cloud management.
Gao said China Railway can extend passenger services to include catering on trains, hotel reservations and car pickup at a traveler's destination; enable new freight products that exploit the use of station land in new ways, and bring in whole new rail networks to link China with Europe and Thailand.
"Three or four years ago, we couldn't think like this," Gao said.
Feature image: Photo by Konstantin Planinski on Unsplash
Slide images: From How China Railway Leveraged Open Source Cloud to Achieve Business Innovation, presented at OpenStack Summit, Sydney, November 2017.