Docker Enterprise Edition Expands to Support Mainframes, Multitenancy
You could call this Docker's coming out party for the enterprise. Earlier this year, the company released a consolidated Docker Enterprise Edition, gathering its corporate container technologies into a single platform and brand. Wednesday, that platform was further updated to include Z System support, policy management, and multitenancy, thus creating a cross-platform management system for enterprise applications.
Today's updated release of Docker Enterprise Edition includes support for managing containerized applications on Windows, Linux, and IBM's Z Systems. This means enterprise users can take advantage of a single management and policy control plane that sits above all of these legacy and new-stack style services.
David Messina, chief marketing officer at Docker, said that this update both addresses something customers were already doing with Docker, while also significantly expanding the company's market by addressing legacy application migration to cloud platforms.
"Enterprises are seeing a very broad opportunity for Docker because cloud-native applications and microservices are something we enable, and they're a very important and interesting part of the process. But for CIOs looking at their broader investments, having a platform that effectively covers the lion's share of their applications," is appealing, said Messina.
That almost immediately draws a parallel to VMware's vSphere offerings, which promised similar benefits through the management of virtual machines at scale. One of the areas where vSphere first gained traction was the quality assurance process. That seems to also be the case for Docker Enterprise Edition.
Jenny Fong, director of product marketing at Docker, said that Splunk has been using these features for exactly this purpose. Of particular interest to Splunk were the multi-tenancy and policy management tools, said Fong.
"The key need for [Splunk] is they are doing a bunch of testing on their software stack against different infrastructure, and for each of the tests they perform they need to do some performance validation on it too. To do that, they need to give the user or tester access to a full node. Our new capabilities can give a tester access to a whole node for themselves. They're leveraging this to do these tests at scale so they don't have to worry about different users using resources that are not intended to be shared. They have hundreds of engineers already in the system," said Fong.
Onboard Expertise
Enterprises are not entirely expected to containerize their legacy applications on their own, however. Docker also introduced a set of enterprise consulting services known as the Modernize Traditional Applications (MTA) Program, today. This five-day engagement brings Docker, its partners, and legacy application providers like HPE and Microsoft together to modernize and containerize applications for enterprises.
The MTA program offers one week of onsite support coupled with three weeks of remote support to ensure the transition goes smoothly. The service also includes Docker Enterprise Edition deployment help.
Messina said that this multiplatform support in Docker Enterprise Edition will enable new ways of building applications. As an example, he cited the fact that using Docker Enterprise Edition, an administrator could deploy and manage both an instance of Microsoft SQL Server and Apache Tomcat.
Those applications being spun up by Docker Enterprise Edition can also be traced back to an immutable repository, if so desired. This ensures policies can be enforced at all stages of the application lifecycle, and remain in place even when finalized images are at rest.
"We've setup an automated image composure model tied to different rulesets. You can determine what gets into production, including a requirement that your images are scanned for security vulnerabilities, for example. In this world of hundreds if not thousands of images, the only way to scale that operationally is to have automation around it. There's a major feature set here called image promotion to address that. There are checks and balances to know the image you want to run in production is a final image and hasn't been overwritten. It's part of this immutable data repository. No one can overwrite anything in there," said Messina.
Enforcing policies on applications is another area where Docker Enterprise Edition allows operators to have a single panel for controlling rulesets.
"Now that you have the ability to have Windows, Linux, and mainframe systems all in the same cluster management platform, you want to make sure you have a system that's flexible enough to have your own policies and procedures all the way back to the teams that are working on them. You don't want to institute a new set of policies to have your platform on Docker. We've delivered a model that has both logical and physical structuring of how your policies and organizations are arranged," said Messina.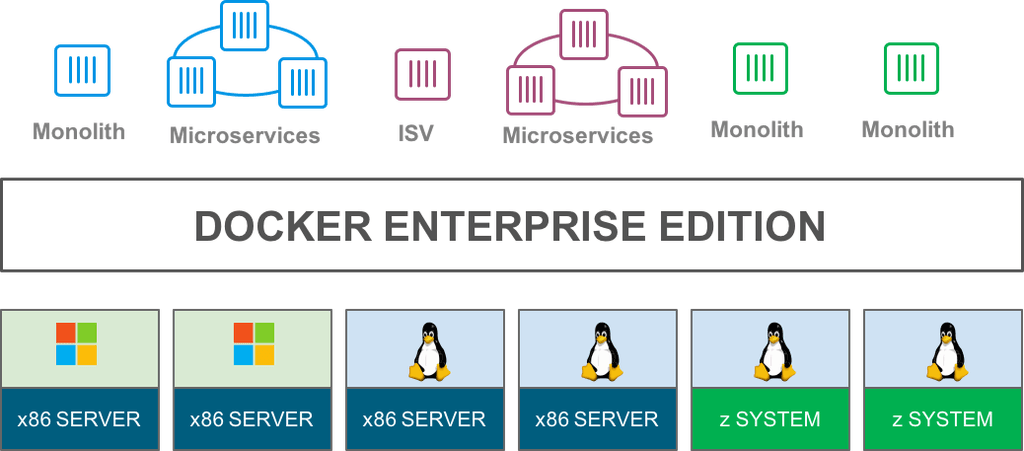 The Shadow Knows
One of the things Messina said Docker is aiming to help enterprises with in this release is their shadow IT problem. "Much of the cloud growth was delivered through shadow IT initiatives," said Messina. These shadow folk perhaps used a company credit card to open an Amazon Web Services account, and in so doing created a new environment outside of corporate policies and monitoring.
While these efforts may not have adhered to traditional IT policies, many enterprises now find themselves with many such shadow IT applications, said Messina, and the ones that are successful generally have to be brought back into the managed fold somehow in order to continue operations over the long haul.
"We're seeing many of our customers want to recruit back those shadow IT applications, which are now mission critical but are being managed individually. In this approach, you can have a shadow IT operation come inside. You can have the IT team manage the infrastructure, and security, and updates but allow the application team to still do their own development and delivery," said Messina.
Docker Enterprise Edition is now available and includes the first generally available release of Docker's support for Z Systems.
Feature image: The J. Edgar Hoover FBI Building in Washington D.C., from the National Archives via New Old Stock.