Lessons Learned from the 'Hiatus' of Flippy the Burger-Flipping Robot
Mar 18th, 2018 6:00am by
When you combine cloud-based technology with automation, sometimes things don't go as planned. That's what happened to a fast food franchise that launched a burger-flipping robot that was partly guided by a cloud-based automation platform. The story went viral, spawning dozens of news stories about its implications for humanity — followed by what was almost a collective sigh of relief when follow-up reports revealed that the much-touted robot had, at least for now, been unplugged.
But is there still a lesson to be learned about the current state of our technology?
Flippy is a burger flipping robot and today is its first day on the job! https://t.co/QoREty8rlV#flippy #robot #hamburger #caliburger pic.twitter.com/DUxBtKfpcp

— Rich DeMuro (@richontech) March 5, 2018
When Flippy showed up for its first day of work at CaliBurger, it was fascinating to watch. The graceful headless automaton, manufactured by Fanuc, promised that it could cook up to 2,000 burgers a day. The Washington Post described Flippy as "a specialized industrial six-axis robotic arm bolted to the kitchen floor [using] thermal and regular vision, as well as cameras, to detect when the raw meat is placed on the grill, then monitors each burger throughout its cooking process." And in addition, the device used Miso Robotics' cloud-connected artificial intelligence platform to aid in the cooking process.
"It's really a deep-learning technique where we can take all of that data and train Flippy to see what's happening on the grill," the company's told one Pasadena newspaper.
https://www.youtube.com/watch?v=lMIkWyiJp0k
But that article also noted that the patties are placed on the grill by humans — who are also in charge of putting cheese onto the cooked patties — and in the end, that proved to be a problem. When the big day came, USA Today reports, the restaurant found itself "swamped with more interest" — from both diners and from potential robot buyers. So many, in fact, that it became obvious the restaurant couldn't get everyone a robot-flipped burger patty. The last reports found the company's chief technology officer holding meetings with the restaurant manager about how to prep and season an adequate supply of patties for a robot which does nothing but flip (and eventually remove from the grill) an endless supply of burgers.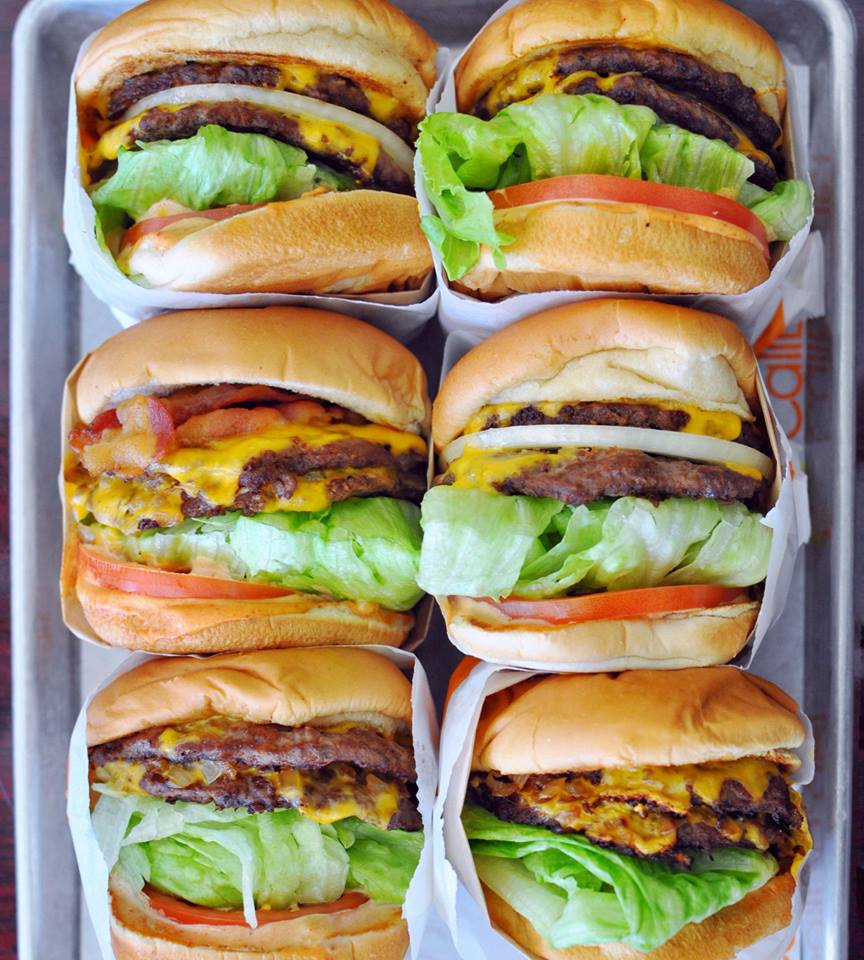 "Mostly it's the timing," he told USA Today. "When you're in the back, working with people, you talk to each other. With Flippy, you kind of need to work around his schedule."
"So in other words," joked one worker's compensation blog "he is like any temperamental human restaurant cook."
One Pasadena news site quoted a spokesperson from Miso Robotics, who said diplomatically that Flippy was offline because they needed to run tests "to make sure the location can fulfill a large number of orders." The flack also suggested that Flippy might be rolled back out during the lunchtime shift.
The Caliburger.com website still says "Come See Flippy in Action in Pasadena" — but for now Flippy's schedule is given as simply "to be announced."
USA Today reported sympathetically that Flippy is on "an extended break," while NPR wrote that Flippy "is on hiatus…" Of course, it could've been worse. USA Today reported that during one of Flippy's earlier test runs, "when it took the burgers off the griddle to cool on the tray, several didn't make it all the way and fell off…"
The CEO of Miso Robotics insisted that those were soon-to-be fixed learning pains.
But CaliBurger, part of Cali Group, has always consisted of both their chain of restaurants "and its affiliated technology companies." The company promises it offers both restaurants and pioneering "retail software systems to drive revenue, lower costs, collect data and improve operations." One marketing campaign involved digital displays integrated into backpacks showing special offers from the restaurant, and restaurants are equipped with huge screens which (among other things) allow viewing parties for professional tournaments of the video games. The web page explains that Cali Group "uses its CaliBurger restaurant chain to demonstrate proof of concept and lead the commercial adoption of the software products developed by its sister companies."
In fact, USA Today's reporter argued that the burger-flipping robot was always just a gimmick. "It's not like the restaurant chain is hiding Flippy back in the kitchen," he says on the newspaper's tech podcast, "Talking Tech." "They've built a stage for the robot. They're calling it Flippy's kitchen… I predict lots of selfies with this robot."
Flippy has already helped Miso Robotics land an extra $10M in funding. But Miso is not the only one. Momentum Machines also has plans for a robot-powered burger joint in San Francisco's trendy South of Market district — and has already raised $18 million.
Fickle, Fickle Humans
It's been fun to watch the humans react. Esquire crowed that Flippy "caved under pressure… The Burger-Flipping Robot Only Made it One Day on the Job."
Humanity: 1
Our future robot overlords: 0 https://t.co/Rev7ME79wo

— New York Daily News (@NYDailyNews) March 12, 2018
But the story has also brought up the issue of turnover among (human) fast-food workers. The Washington Post reported that half of all fast-food workers leave in less than a year, leaving the industry to spend $3.4 billion in each and every year on recruiting and training. "We train them, they work on the grill, they realize it's not fun … and so they leave and drive Ubers," says John Miller, CEO of the Cali Group.
USA Today reports that the manager at Flippy's restaurant "was absolutely giddy" about the prospect of not having to keep hiring and training burger flippers. "Flippy will just be the permanent employee, and I don't have to worry about it anymore." And two years ago a former McDonald's CEO even insisted point-blank that "It's cheaper to buy a $35,000 robotic arm than it is to hire an employee who's inefficient making $15 an hour bagging French fries."
But others have argued that automation won't necessarily mean a reduction in human employment. Panera says when it installed self-ordering kiosks, it got so many more orders that it had to increase the hours of its kitchen staff. "They just had too many people in line and they felt they were losing transactions because they just didn't have enough room to process orders in a reasonable amount of time," says the senior vice president of restaurants equity research at Wedbush Securities.
Somewhere on Reddit, a far-sighted human even seems to already be thinking about their own future, posting "I want to be a burger flipping robot technician."
Cali Group says the burger-flipping robot "is not about labor replacement. It's about augmenting the staff that's in the kitchen." (Even the Washington Post suggests robots could spare human fast food workers from the unpleasantness of accidental oven burns and the occasional violent assault.) Yet despite the story's implications for future of humanity, one activist for fast-food workers told USA Today that "People who work in fast food aren't scared of robots.
"What's really scary is getting paid so little we need food stamps and public assistance to take care of our families."
Some have argued that robots have already arrived in the restaurant industry. Suzomo Machinery Co. has already sold its sushi-making robot to 70,000 customers.
And back in Silicon Valley, Zume is already delivering pizzas that have been assembled by robots — often waiting to cook them until their in their oven-equipped delivery trucks, theoretically guaranteeing a fresher fast food experience. Redwood City-based Chowbotics sells a robot that makes salads.
There's also a vegetarian grain bowl-dispensary in San Francisco, "where robots work with precision to craft your quinoa plus (insert egg, curry, hummus, eggplant parm or chili here) bowl" according to the Mercury News — delivered into "a personalized cubby." The Silicon Valley newspaper also cites a Fremont all-you-can-eat Korean barbecue restaurant with robots that deliver food right to your table via a conveyor belt. And of course, Cafe X's "robotic coffee bars" sells cups of gourmet brews prepared by "shiny white Mitsubishi robot arms that look rather like dental X-ray equipment."
In the end, it's up to the free market to reveal which industries have an unmet need for intelligent, cloud-based automation — so every one of these businesses will face the merciless judgment of humankind's invisible hand.
WebReduce