The Man Who Writes a Song Every Day
Dec 31st, 2017 9:00am by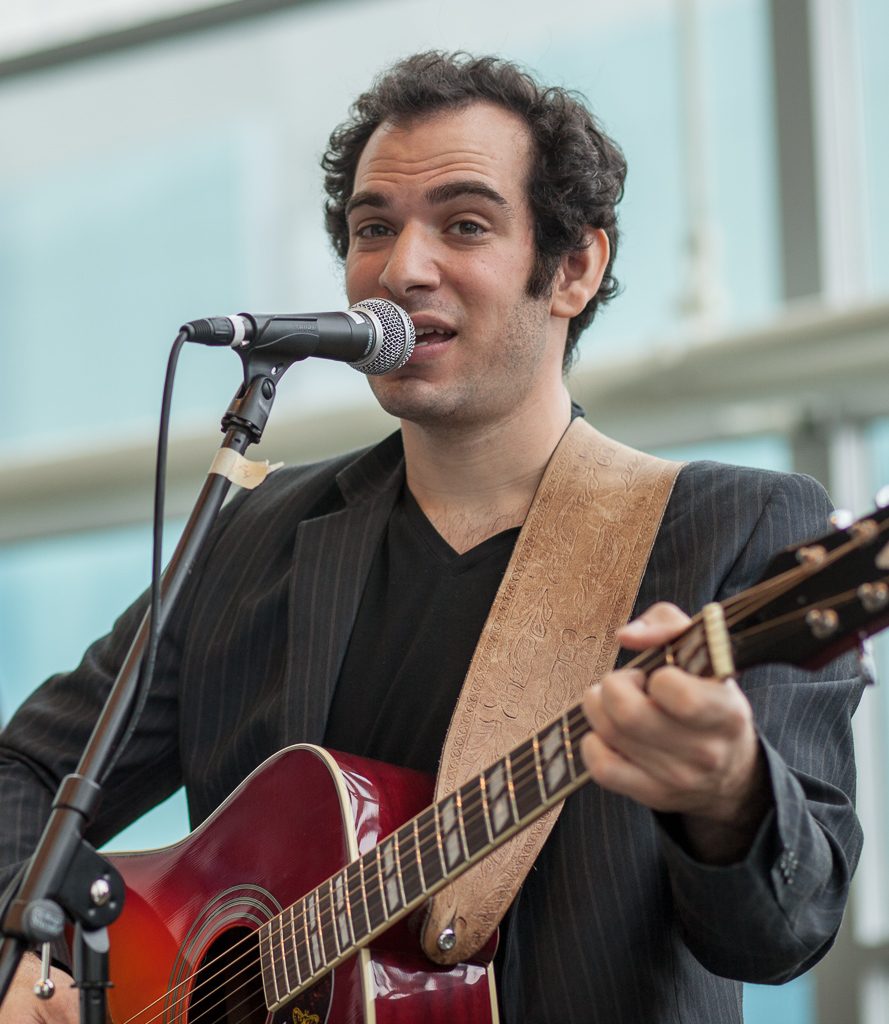 Each year we're using technology for new things — but one of the most inspiring examples is Jonathan Mann.
On Jan. 1, he'll enter his 10th year of writing an original song every day and sharing it online. Mann began his odyssey on Jan. 1, 2009 (at the age of 26), launching a journey of relentless persistence — and demonstrating what happens when you surrender fearlessly to the flow of creativity.
"True fact," Mann explains on his homepage, "I'm the Guinness World Record holder for Most Consecutive Days Writing A Song…"
He'll also write songs for hire on a "pay what you feel" basis (for which most people pay "between $100 and $1,200"). And another page explains that he'll also do a song-for-hire for companies — adding, "Most businesses pay between $2,000 and $5,000 for a song and a video."
The Day It Started
If you're looking for a way to kickstart your own creativity, this New Year's Day also marks the start of the 14th annual Fun-a-Day. ("Pick a project, do it every day in January and show your work in a group show the following month.") This was the event that, back in 2009, inspired Mann to begin writing a song a day. Only, when January was over, he just kept going, according to video from one personal appearance where Mann tells the audience he "was having a really good time, it was going really well. I was unemployed at the time, so…"
Or as Mann explains on his web page, "My superpower is that I can take any idea, no matter how complex, and distill it down into a short, catchy, memorable song."
After high school, Mann had studied both music and recording at Bennington College in Vermont, and after a few oddball projects — like reviewing video games in song or writing music for an episode of ZDTV's show X-Play — he launched his song-a-day project.
And what a long, strange trip it's been.
On day #77, he tried writing a song about Paul Krugman, the Pulitzer Prize-winning economist turned political commentator. "It was on the front page of the Huffington Post, and it blew up and it went everywhere," he said later.
"It culminated with this live performance on the Rachel Maddow show, where I brought these bubbles for her, and she blew bubbles at me…"
And on day #202, he won a $500 American Express gift card in a jingle contest held by Microsoft for the launch of their Bing search engine.
When TechCrunch quipped that Bing had succeeded "in finding the worst jingle ever," Mann responded with a second song — setting TechCrunch's article to music (along with a speculative interior monologue which Mann acknowledges is "completely made up.")
Mann later admitted that his jingle was the worst song he'd recorded that July. ("I wrote it in 10 minutes …") And his worst song that October was a related song that he'd written when "I received an email from Microsoft of a video showing middle-school kids in Pennsylvania singing and dancing to my Bing song."
"I was horrified. Don't get me wrong, the kids were adorable, but Bing? What had I created!?"
But he was honored when the kids told him they'd enjoyed dancing to his song, and when they asked for one about their own school, Mann obliged.
Fun with Apple
When Steve Wozniak turned 60, Mann was ready with a musical tribute — Song #588, "That's Just Woz."
On his home page, Mann proudly displays a response that he says he got from Wozniak himself: "I like surprises and I like things out of the ordinary. The birthday song fit this to a 'T'."
On day #561, Mann released "the iPhone Antenna Song" — mocking what he saw as an overblown controversy over reports that the iPhone 4 would drop calls if you gripped the phone too tightly. And Apple later opened its press conference addressing the controversy by playing Mann's video.
Jobs told the assembled reporters that "I saw that on YouTube this morning, and couldn't help but want to share it."
Mann followed it up the next day with his own musical tribute to Jobs himself.
And in January of 2011, as the world learned Jobs had taken an indefinite medical leave of absence, Mann released song #753: Get Better, Steve Jobs.
On October 5, 2011, he shared another song from the heart: Goodbye, Steve Jobs.
A week later, Mann's duet with Siri earned over 1,609,675 views.
And the next September — on Day #1,365 — he recorded a second duet with Siri, just to wish her a happy birthday.
In September of 2013 he released Song #1710, "I Miss Steve Jobs."
Some Personal Moments
On Day #810 Mann convinced his girlfriend Ivory to sing the other half of a duet called "Vegan Myths Debunked." They'd apparently been dating for a year before he started his song-a-day project.
But after four more years, on Day #1,435, Mann and his girlfriend Ivory decided to break up — and released a music video about it.
Later, on Day #2000, Mann shared an update in response to the inevitable question. (The song's title? "Yeah we talk occasionally…")
https://www.youtube.com/watch?v=fv_WRsHBDI0
And on Day #1,613, on June 2, 2013, Mann recorded a song with the express intent of selling his bed.
It includes more glimpses of his ongoing life. He's now living in Brooklyn, and his new girlfriend is moving in. (Mann left the Bay Area in 2012, according to his Wikipedia page.)
And in 2014, on day 1,951, Mann's wife gave birth to his son Jupiter.
This April saw the birth of Mann's second child — and another song. (He's included it on his Patreon page, where he's now attracted 80 patrons.) And in many of the songs since, you can hear sounds from his children in the background.
Something Special for Song #2000
Day #2000, in June of 2014, Mann answered questions from Reddit users, answering every question with a song.
https://www.youtube.com/watch?v=s5s40qJj4gQ
And for an especially stupid question — "Can I ask you one question?" — Mann even let his infant son lip-synch his answer.
https://www.youtube.com/watch?v=lKP_I7U_BSo&feature=youtu.be
Some of his musical answers have been viewed less than 40 times, but Mann persisted. He shared some surprisingly thoughtful responses to people who asked how he kept coming up with songs that sound different, or how he keeps himself motivated.
One answer even included his own meditation on the passage of time. In the song he mentions that his grandfather was a vaudeville performer, "but I've got YouTube, and I've got you, too… I work for myself, and I work for you."
That song's video has been viewed just 740 times.
Later at a speaking engagement, he offered his own perspective on time: "100 days went by, a year went by, a thousand days went by. At a certain point, it just becomes a part of my life. And so that's how I stand before you now having written 2,082 songs in as many days."
As the audience applauds, he segues into his larger message, "I'm happiest when I'm making." His theory is that 10 percent is going to be really, really good — but "the more stuff you make, the more good stuff you're going to make." On an average day, his videos get 300 to 1,000 views, but there are a couple of spikes when a song goes viral.
He's still occasionally making headlines. In October a tech support specialist at Apple Store "Genius" bar generated some bad press when he told a customer complaining about a space bar on a MacBook Pro that turned one press into two: "Maybe it's a piece of dust." Of course, Jonathan turned that into a piece of music, too, and brought in another 1,014,899 views.
That song was linked to by CNET and the Apple-watching site 9to5Mac. But it's just another day on the song-a-day beat.
On Day #2001 Mann's song was a recap of the 50 songs he wrote the previous day for Reddit. But in honor of the occasion, he'd created a very special video — including part of each of the 1,999 previous videos into a spectacular montage called "2000 Songs in 2000 Days"
"Every day, I do the very same thing. I get up, and I sing, sing, sing," he said."Brush my teeth, rinse my mouth. It's all worth singing about."
"And I will sing until I'm all out of breath. And the color of the sun is a dark, dark red. And the governments will fall. And we'll sing until it hurts. And we'll ring forever through the universe."
The video ends with a personal message from Mann himself.
"Make something every day," it urges in big letters.
"Just start. I believe in you."
---
WebReduce
Feature image via Pixabay.
YOUTUBE.COM/THENEWSTACK
Tech moves fast, don't miss an episode. Subscribe to our YouTube channel to stream all our podcasts, interviews, demos, and more.