Mesosphere 1.11 Focuses on Edge Computing, Multicloud and Disaster Recovery
When it comes to "edge computing," one early adopter has been Royal Caribbean Cruises, which is currently outfitting its vacation ships to provide personalized customer services, with the help of new capabilities in Mesosphere's Data Center Operating System (DC/OS).
"When you go on a cruise, there's all these extra packages you can book. Royal used to print paper brochures and put them in people's cabins. Now people can use an app to book these packages," said Tobi Knaup, Mesosphere co-founder and chief technology officer. While the ships have onboard wireless networks, connectivity back to shore is sometimes limited. Royal uses customer data to personalize packages, some of which is generated on the trip, and some that are collected beforehand. So the ships need to be connected to back-end analytic resources, at least some of the time.
DC/OS provides a way to run these customer services autonomously when out at sea, but still provide a way for the company to manage them from a central command center, whenever the ship docks at a location with more bandwidth.
This edge computing extension is one of a number of new features that will be offered in the next edition of the cloud services platform, which has been outfitted to easily manage edge computing nodes, multicloud set-ups and even disaster recovery plans. This next version of the software, now released in Beta form, will also be the first to offer production-ready Kubernetes deployments.
Using a unified control plane, DC/OS 1.11 can be used to pool public cloud, private data center, and edge compute instances into a single cluster, providing the ability to schedule workloads across any of these resources from a central user interface, or through automation tools. For multicloud resources, the operator won't even have to worry about the particular cloud — be it Google Cloud, Microsoft Azure, Amazon Web Services, or a private cloud — is run on.
The data plane also allows admins to "stretch" clusters to remote locations through the use of agent nodes, setting the stage for edge computing and disaster recovery deployments that can be controlled by a single unified operating experience.
This federated model is a good fit for "where a customer has a need to provision some footprint at the edge of the network," Knaup said. "These edge locations tend to be very small, so there is not the ability to run a full-cluster at each edge location. An edge computing location may be something like a cell tower or a hospital. The edge components can be managed from a data center or centralized cloud service.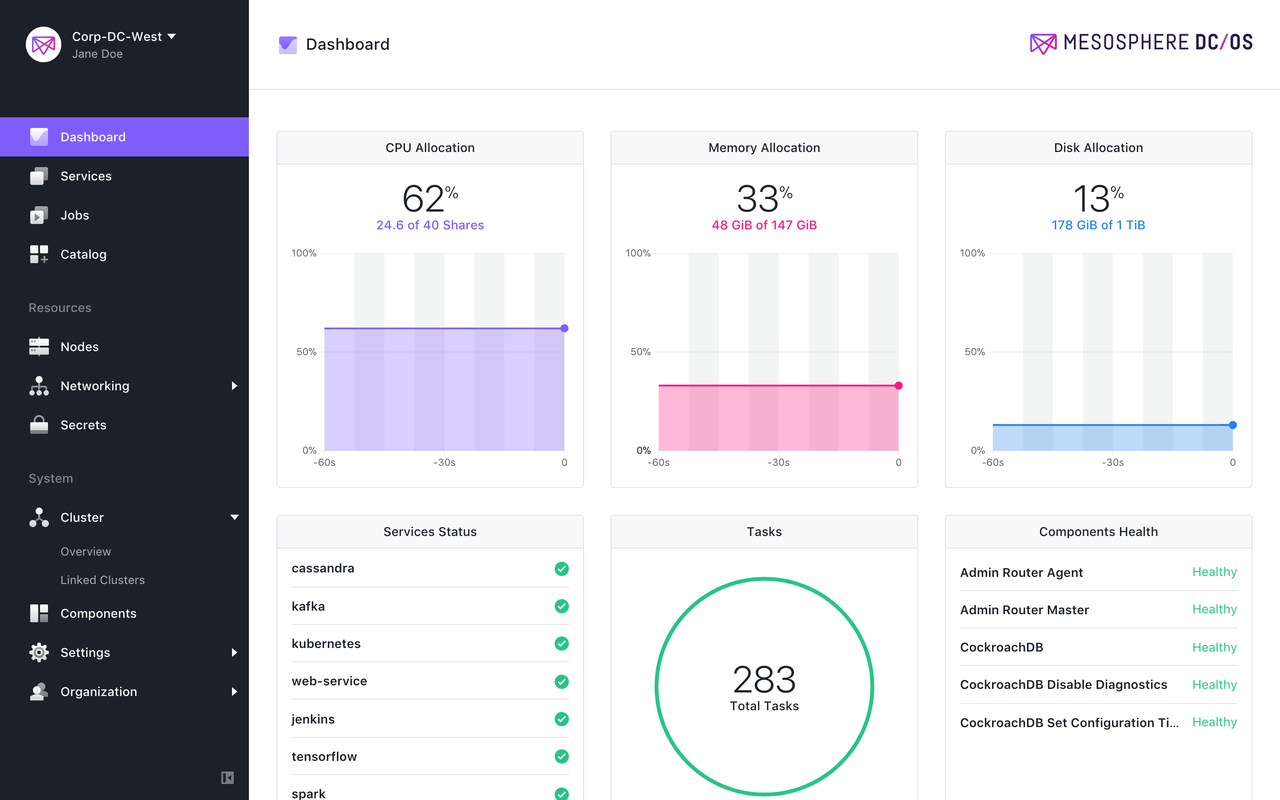 DC/OS can further aid in disaster recovery operations, through "fault domains," by providing a way to recover automatically from failures at the node, cluster, rack, or even site level, by utilizing another set of resources.
"Depending on the infrastructure, those can be availability zones on a cloud provider or racks in a data center," Knaup said. "When customers run their own containers, they can select which reason or zone they can go to, and how they should be spread." Moreover, the application-aware automation capability that is built into services can minimize the amount of reconfiguration that needs to be done to ensure continuity of operations during unscheduled downtime.
The new version of the software also comes with a number of security improvements. Most notably, it now offers the ability to encrypt all service traffic through the Transport Layer Security, which should be good news for users in regulated environments. The software now offers the ability to generate and distribute encryption certificates, for services to securely recognize each other. According to the company, encryption keys and certificates will be lodged within DC/OS's encrypted secret store
To date, DC/OS has brought in 125 paying enterprise customers, including number companies on the Fortune 50. The platform is best suited for hosting complex data-driven services, while minimizing and automating the amount of configuration and maintenance that needs to be done to keep applications such as Cassandra, Kafka, or Hadoop operational.
Mesosphere is a sponsor of The New Stack.
Feature image via Royal Caribbean.