nClouds: Getting a Grip on Change Management
For the all the new ways cloud-native applications have altered the process for development and deployment, one of the biggest disrupters is the idea of constant change, Chip Childers, co-founder of the Cloud Foundry Foundation pointed out in a recent post.
Startups are awakening to the need for change management in the continuous integration and continuous deployment (CI/CD) world, where clunky traditional change management systems fail to keep up with the notion of moving fast.
San Jose, Calif.-based nClouds, an AWS-focused DevOps and cloud consultancy, has developed a change-management SaaS product called nOps.
It's described by HfS Research as "designed to help operational IT get control of change management across their cloud infrastructure while supporting speed and automation characteristic of DevOps practices. It offers both clear oversight of dependencies and a quick route to identifying cost savings across cloud."
The company developed it internally while working with clients on cloud migration, CI/CD pipelines and DevOps-as-a-service. It's being rolled out as a new offering on the AWS Marketplace.
"In cloud environments, the majority of employees have keys to provision resources. The majority of people can go in and make changes to things like security groups. When we go in and say, 'Hey, why are you not tracking these changes?' and the majority of customer say they're just too busy. So we're trying to bridge that gap where you can go fast, and at the same time track changes," said JT Giri, nClouds CEO and co-founder.
nOps is designed to show across all AWS accounts how much a change will cost, how long provisioned resources will be kept around, and whether a change will violate any company policies.
It's tightly integrated with tracking software JIRA and the AWS Service Catalog. Using the service catalog, IT builds services using templates following company guidelines, so users can implement those services knowing they won't violate company policy. That means they can be pre-approved and automated more readily.
Using a Django stack on the back end, nOps uses the Slack bot and AWS Lex to detect what people are talking about.
"[If in a conversation] I said, 'I'm going to deploy to production,' the bot would say, 'You said deploy to production. Do you want me to create a change request for this?'" Giri said. It could create a JIRA ticket and once the change is approved, you could associate the changes happening to the actual change request.
"Without change management in the cloud, it becomes very, very hard to control security because you have so many people making changes. Some might provision resources with Terraform, some might use Boto, some might just go in and do things manually. You have all these people provisioning workloads across many, many accounts, and it becomes a nightmare of tracking who's doing what."
Change management borrowed from yesterday's IT service management involves heavy process and delays, especially if it involves change advisory boards that might not meet until a week from Tuesday, according to Randy Newell, nClouds chief marketing officer.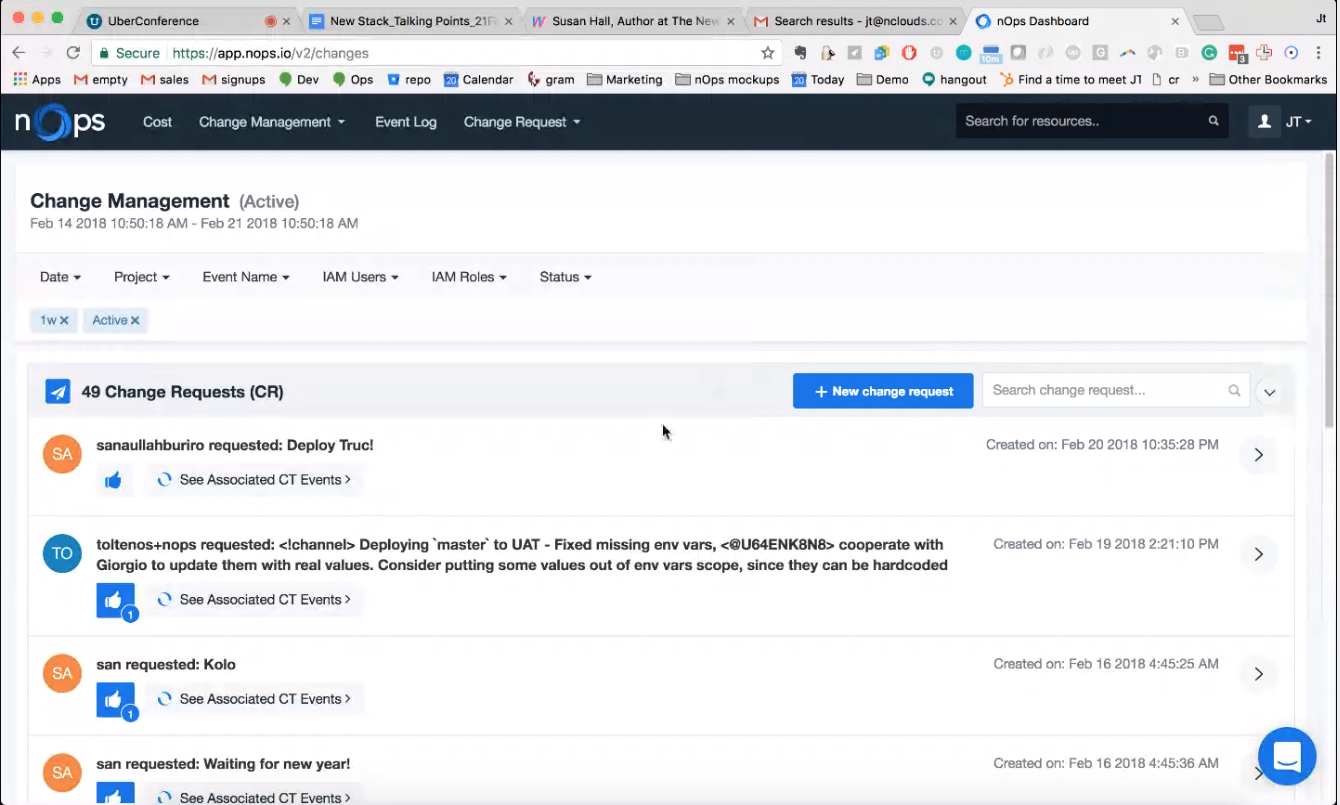 "To the degree we can define rules and provide services inside Service Catalog that are prudent, we can expedite the bulk of changes that are happening, build a workflow that handles exceptions to the process, then you can integrate that with your DevOps tools, so if there's a Slack message that says, 'We need to take care of this exception,' it needs to get through a certain set of criteria, you can do that within the workflow," he said.
There are a lot of downstream uses, he pointed out. It can help in remediating an incident since almost every incident is caused by some time of internal or external change. It can make it easier to put together a compliance review. One client, in the first two months, identified $100,000 in savings from unused instances, he said.
The New Stack's Alex Handy recently called change management and governance "an oft-forgotten market," one that's the focus of New Jersey-based IT operations analytics (ITOA) vendor Evolven. Beyond using advanced analytics to monitor infrastructure and change, its touts its ability to work on any infrastructure.
As it evolves beyond its service offerings, nClouds plans to incorporate more artificial intelligence and machine learning, Giri said. The company's also working on a solution to address toil — manual, repetitive work that can be automated. Still in the works, it aims to address the number of alerts users get from its monitoring and other systems and automate remediation as much as possible.
Cloud Foundry is a sponsor of The New Stack.
Feature image via Pixabay.