Netlify Offers a Git-Based (Yet Non-Techie Friendly) Content Management System
What if a content management system (CMS) did just one thing really well — like, you know, manage content?
This is the question that Netlify co-founders Mathias Biilmann and Chris Bach asked themselves upon firmly establishing their company as the leader of the JAMstack development revolution, not to mention the industry's leading static platform and hosting solution. And it was the right thing to ask: Netlify gives static websites superpowers by offering a global content delivery network (CDN), free custom domains and SSL certificates, and integration with GitHub so seamless it enables developers to do atomic deploys straight from the command line.
https://twitter.com/isalwaysblank/status/938171419329929216
One thing it didn't give them, however, was the ability to manage content in a way friendly to non-techie content providers. Furthermore, the Git workflow — though used by the vast majority of developers — tended to conflict in significant ways with traditional content management systems, which typically come with rigid tooling and infrastructure demands.
This conundrum inspired the foundation of Netlify CMS, a Git-based content management system designed to make creating and publishing new content easy and intuitive for editors and marketers — while developers still get to build faster, cheaper, scalable and more secure sites, all inside the Git workflow.
On Dec. 7, a year after working to build a Git-based CMS that included friendly UI, easy to use markdown editor, and built-in media library, the company shipped the production-ready Netlify CMS 1.0. It provides an intuitive interface for managing content, stored as persistent data in a repository, all designed to work seamlessly in the same place developers do — in Git.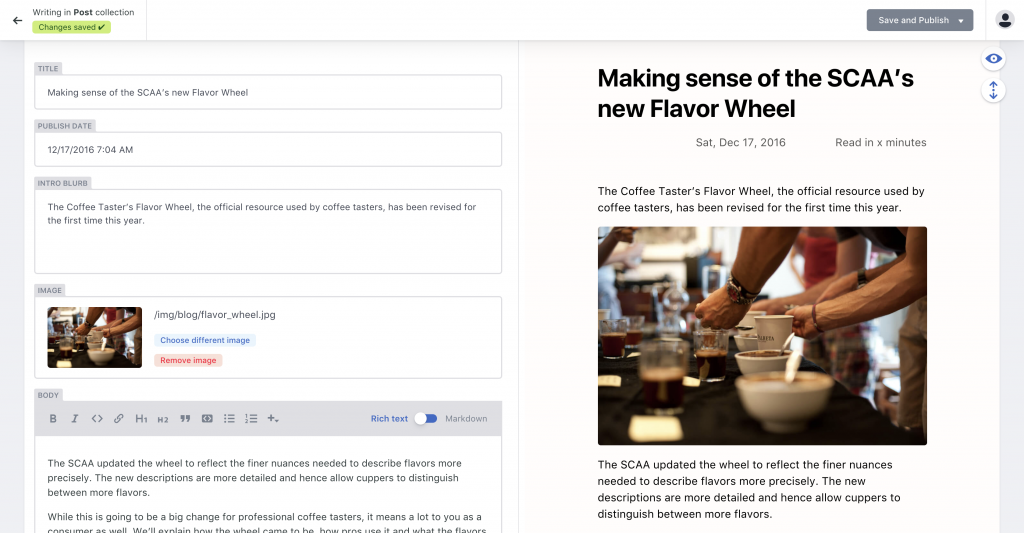 "It is time to blow up the notion that a CMS has to handle the entire process, from build to e-commerce to commenting," said Biilmann. "Developers are now overwhelmingly decoupling the front and back end, and taking advantage of microservices to improve everything from load time to security."
In short, time to unchain from legacy bloated, monolithic CMS approach, and treat it like one more component that's just there do it its job, and only its job. In this case, managing content.
Hackable and Extensible, Yet User-Friendly
Netlify CMS 1.0 is built as a single page React app and is fully customizable. The service allows custom-styled previews, UI widgets and editor-friendly plug-ins, as well as the ability to add different backends supporting Git platform APIs.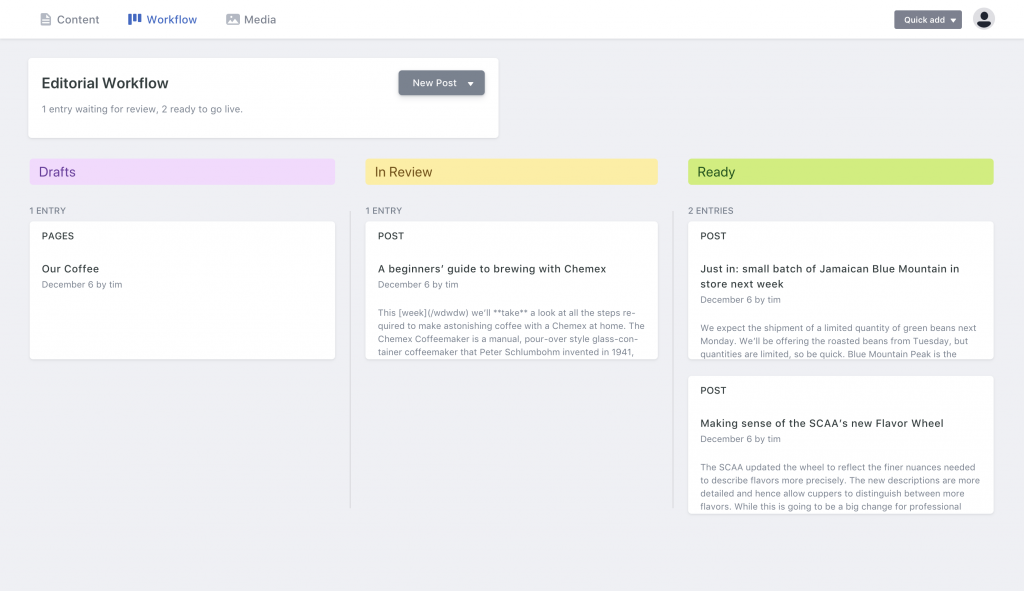 More important to the people who will be writing and uploading the content, there is a very user-friendly editor for writing in markdown (the "M" in "JAMstack). Among other front-of-the-house friendly capabilities new to this release include the ability for users work in the CMS even if they don't have a GitHub account. In fact, it can be combined with Netlify's Identity user management widget, an OAuth service, to allow content providers to simply log in with an email and password. (Just like in those other CMSs, only with JavaScript and minus the bloat). And, coming soon, there will be templates and tutorials to further ease onboarding.
Filling the Open Source, Community-Driven Gap
Needless to say, prior to this endeavor, headless CMS was already well established as a development philosophy, and plenty of proprietary content management options had sprung up to serve it. However, in building their own CMS, Shawn Erquhart — core maintainer for the Netlify CMS — says that his team at Netlify sought to fill a crucial gap: the JAMstack/static development ecosystem lacked an open source, community-driven option for static content management within the git workflow.
"Open source powers standards. The community has really come together to help drive feature growth, and make this project a viable option for developers and companies who want to advance the way they ship web projects," said Erquhart.
And he is confident that the open source community will come, with sleeves rolled up and ready to pitch in. "Working with content management systems has been a point of frustration for lots of developers, so it's easy to see why they're quick to embrace a CMS that allows them to go static while choosing their own workflow and tooling," he said.
Netlify is serious about enlisting the open source community in continuing to build and improve the Netlify CMS. The company hosts a live bi-weekly planning session and invites interested contributors to join in.
"You can help us drive the roadmap," said Biilmann.