OpenStack Summit Sydney Addresses Open Source's Integration Pains
At OpenStack's first Australian Summit this week, OpenStack Foundation Executive Director Jonathan Bryce, singled out integration as the biggest challenge facing the cloud operating system. "We are a flexible, programmable infrastructure technology," said Bryce pointing to the range of innovative products built on OpenStack. "But innovation alone is not enough to provide services," cautioned Bryce. "We have an integration problem in the open source community."
The problem is that for end users, there may not be clear integration tools available to connect various offerings from those very same businesses involved, he said.
The good news is that two tools debuted at the conference — the version three release of Zuul development workflow routing software, and the brand new OpenLab testing platform — aim to address different integration challenges facing OpenStack end users.
The two new tools exemplify OpenStack's new approach to ensuring companies and governments can integrate the vast range of open source projects that they rely upon the open source infrastructure-as-a-service platform.
Originally, Zuul was designed as a project gating edge service that allows for the checking and management of pull requests and commits into a CI/CD workflow for a project as mammoth as OpenStack. With the version three release, it has been explicitly designed to be used by external projects who may need to monitor and manage other open source projects and can scale to thousands of projects. This meant adding modularity, such as GitHub support, which isn't used internally by OpenStack but is a common tool for OpenStack users. The new version release also enables job content to be written in Ansible and run from the CI/CD workflow rather than requiring a testing specific automation framework.
The new OpenLab initiative is a community-led project to test OpenStack's most popular SDKs, as well as the reliability and usability of other platforms like Cloud Foundry, The Cloud Native Computing Foundation's Kubernetes, and HashiCorp's Terraform running on OpenStack. With both Huawei and Intel contributing full-time resources, the project recognizes that users need more tools for hybrid and multi-cloud environments.
Four-Step Approach to Open Source Integration
Allison Randal, a board member of OpenStack Foundation, said the two new releases reflect a new four-step approach to integration being advocated by OpenStack.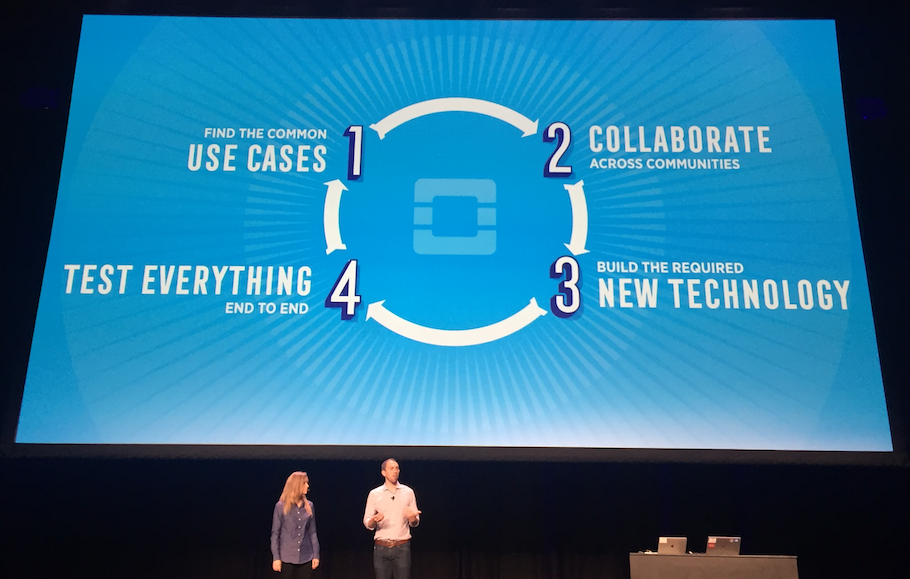 The approach involves:
Identifying the most common use cases for OpenStack users: For example, 50 percent of OpenStack users also use Kubernetes, while 87 percent of users have indicated that they plan to use OpenStack to manage their edge platforms. That starts to indicate where OpenStack needs to make sure integration tooling is available to help users avoid the need to build their own connections across their tech stacks.
Collaborate across communities: After identifying the tech stacks most often needed for key use cases, interoperability efforts become the focus for ensuring stable production quality, said Randal, pointing to the recent

OpenDev event

held in San Francisco as an example of community efforts to solve integration challenges.
Build the required new technology to glue everything together: Bryce indicated container security and edge deployment integration tools will be two of the first areas being addressed by the new integration agenda at OpenStack.
Test everything end-to-end: Zuul's new positioning to help cross-community integration testing, and the emergence of the OpenLab effort help ensure that the integration agenda is more than just a strategic idea, but is backed up by the tools needed to make easier integration a reality.

AT&T: Streamlined Projects in a Maturing Ecosystem
Sorabh Saxena, AT&T's CIO of Network and Shared Services, agreed that "collaboration with open source communities will be critical" especially in emerging new technology areas like edge computing. He urged the next generation OpenStack technology to focus on three areas:
Security: Where "security by design" must be embraced. Saxena suggested the top priority here must be security scanning and ensuring vulnerability closure.
Operations: Standardized health APIs need to be available to enable self-healing software
Upgrades: Seamless upgrades must be available to drive predictability in platform containerization and orchestration.
Saxena said that integration is best achieved by defining what are the core projects of the OpenStack ecosystem and focusing on maturing those, with a set of metrics in place to measure technology maturity. A governance body to oversee new releases would also help manage maturity efforts. Saxena outlined the expected growth of 5G applications and argued that edge computing would be needed for the growth of new areas like augmented reality. As these areas push production use cases, the ability for users to integrate their container and software application tools becomes paramount.
The Cloud Foundry Foundation, The Cloud Native Computing Foundation and OpenStack Foundation are sponsors of The New Stack.
Photos by Mark Boyd.