How Employers Can Help Their Developers: Time for Open Source Projects
Jul 2nd, 2018 9:35am by
The latest 2018 Open Source Jobs Report points to several ways employers can help developers. Based on a survey of over 750 hiring managers and 6,5000 people who use open source professionally, the Linux Foundation and Dice study indicates what developers want most from their employer are opportunities to attend conferences and events.
Although funding for professional training and certification is also desired, developers often just want time during work hours to learn and contribute to open source. In fact, 62 percent of developers said they would be more successful if they could allocate paid work time to contribute to open source projects.
How that would work in practice is up in the air, too. Thus, 52 percent of developers wish their employers would establish clear policies for both using and contributing to open source. Oftentimes, the policies are related to the licensing and ownership of intellectual property, but often developers have a broader set of challenges.
When asked about their biggest professional challenge, 41 percent of developers cited a lack of documentation related to open source software projects and 34 percent said getting management buy-in for open source is challenging. Lack of hardware or software tools is much less likely to inhibit developers.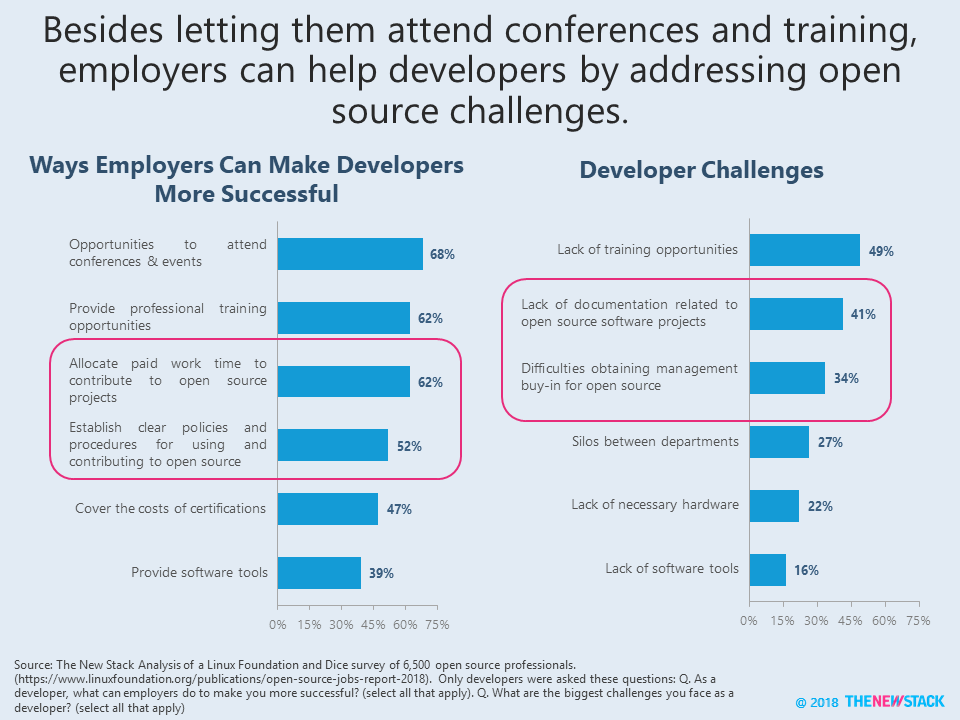 Employer Point of View
Employers want to recruit and retain highly skilled and productive developers. How best to achieve this goal is an eternal question for hiring managers. Of course, a high salary and good benefits help. So does having a diverse, inclusive work environment. And according to the hiring managers, 37 percent have diversity training programs and 31 percent said diversity groups are sponsored within the company.
Training and certification are increasingly being used to retain employees. The percentage of employers explicitly saying paying for training is a retention incentive has risen three years in a row in this study — from 26 percent in 2016, to 33 percent in 2017 to 42 percent in 2018.
Since this was a survey of open source professionals, it is not surprising almost half of hiring managers (48 percent) say their company decided to financially support or contribute open source projects to help with recruitment. Although this sounds incredibly compelling, it is fair to question how much hiring managers actually know about open source management. Since 57 percent of hiring managers say their company contributes to open source projects, a back-of-the-envelope calculation says that 84 percent of companies that contribute to open source are doing so at least in part to get new employees.
Paying to sponsor a conference is important, but I believe that instead of being a primary decision driver, it is much more likely that one of the side-benefits of supporting an open source project is that a company gets more visibility at conferences where they can meet developers.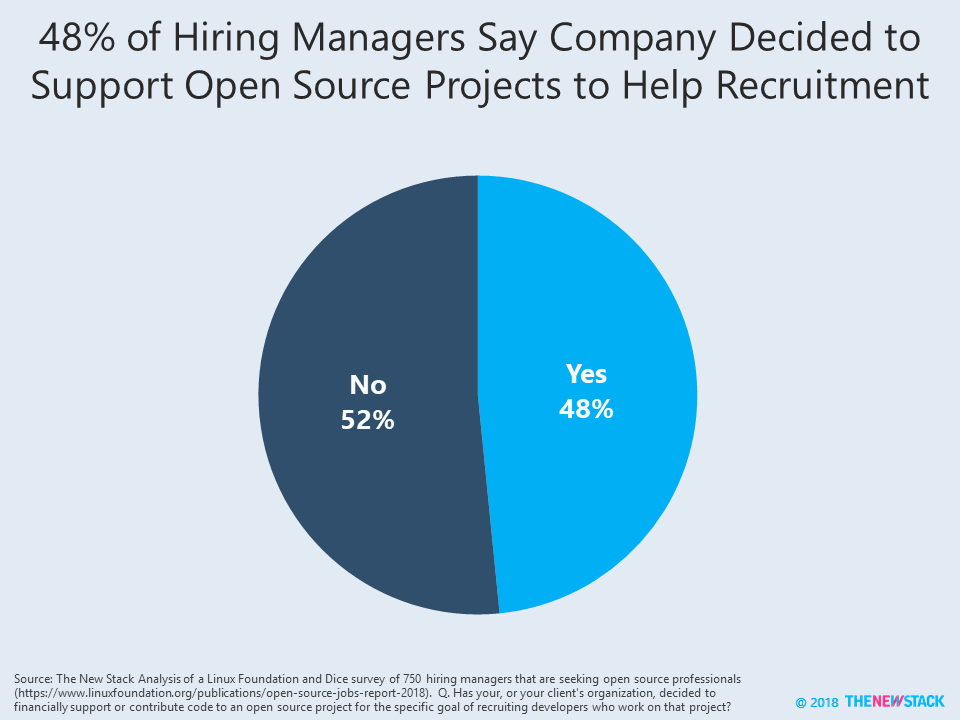 When making a decision to hire an open source professional, the most important skill is being able to architect a solution based on open source software. Experience and knowledge of various technologies and methodologies are also high on the list.
Skills associated with developers' top challenges are at the bottom of the list of what hiring managers are looking for. Despite open source documentation being a top challenge for developers, only 21 percent of hiring managers are looking for people with that skill set. Similarly, although having established procedures for open source is a key ingredient of developer success, only 20 percent of hiring managers are looking for skills in open source program management. Of course, open source programs are still a nascent initiative at most companies. If hiring managers are looking for open source program management, then perhaps there is pent up demand that a a formal initiative can address.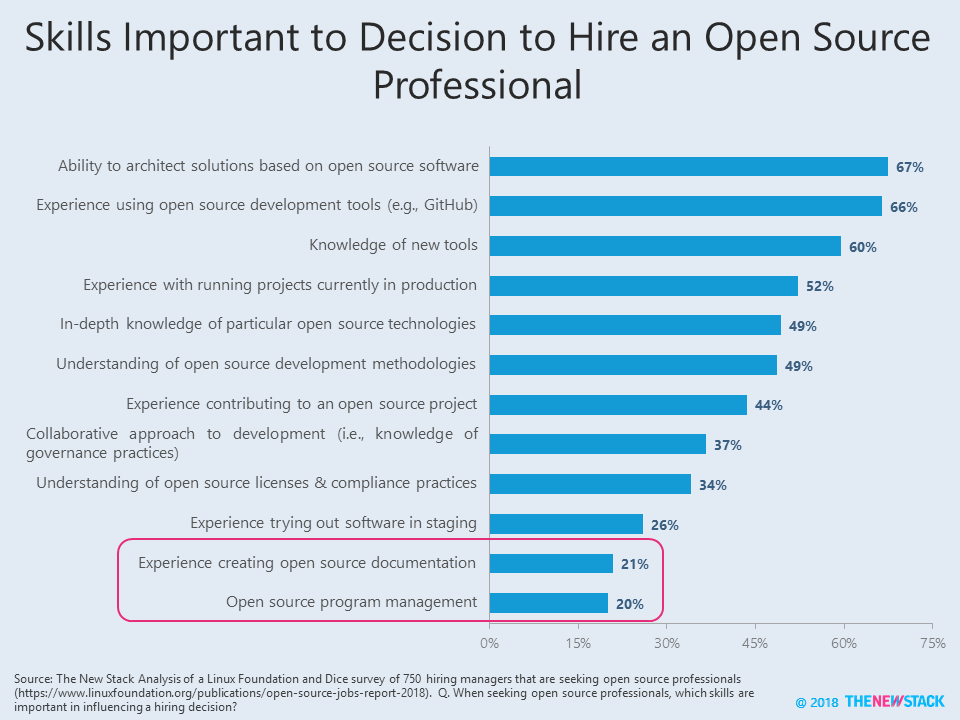 Luckily, The New Stack and The Linux Foundation have teamed up to survey the community about ways to standardize and promote open source policies programmatically. We encourage readers to participate.
Feature image via Pixabay.