ServerlessConf NYC to Address DevOps in a Serverless World
Sep 21st, 2017 4:53pm by
It promises to be the serverless community's largest get-together to date: October 8-11 in New York City, ServerlessConf NYC promises to bring hundreds of cloud-native applications developers together for in-depth discussions about how the newest concepts in serverless will mesh with the existing developer culture — which is already in flux for other reasons.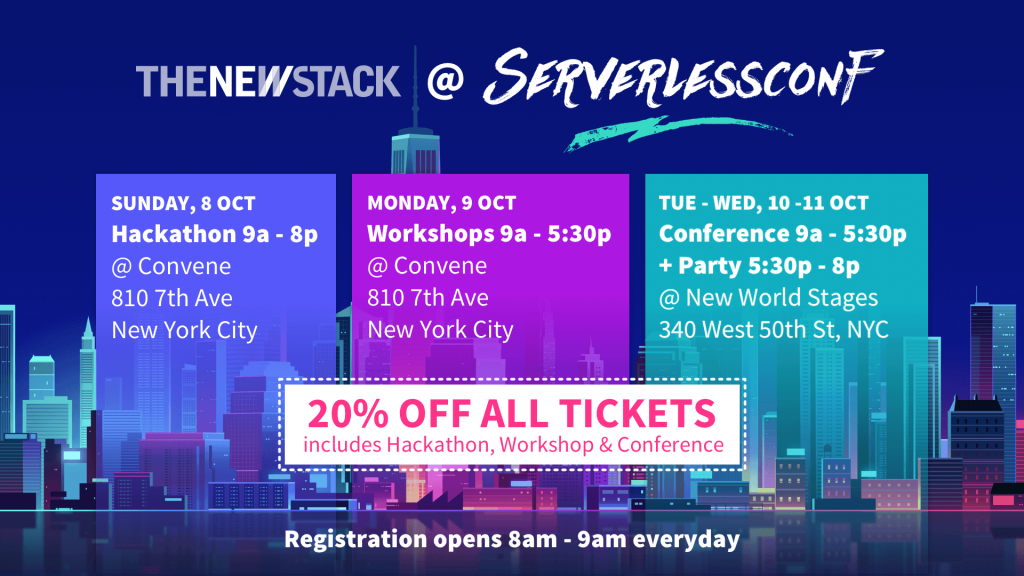 "Initially, there was this discussion that maybe serverless is 'No-ops.' And it turned out to not be true at all," admitted Peter Sbarski, who leads the ServerlessConf conferences and is vice president of engineering at A Cloud Guru. Speaking with Alex Williams for this edition of The New Stack Analysts, Sbarski told us, "When you are deploying functions, you are basically building a large distributed system. It needs to be managed, organized, looked after. You need to have monitoring, logging. You need to know what is going on with the functions, with the third-party services that you consume. How do you even do a release that makes sense? How do you release dependencies in the right order?
"So when you get away from trivial, small applications to real-life systems," Sbarski continued, "DevOps becomes very important."

#145: Serverlessconf NYC to Address DevOps in a Serverless World
It is the antithesis of the case serverless proponents were making just last year, at a time when it seemed developers were the key drivers for the new technology. But it also seems slightly self-contradictory, and not just on the surface, to suggest that a serverless frame of mind requires someone, somewhere to focus on the requirements of the server — and for that someone to at least be coordinating with the developer.
So there's a lot to be explained. Sbarski gets into this topic and other subjects to be covered during ServerlessConf in New York City, with Alex and our contributing analyst, Krishnan Subramanian, in this latest edition of The New Stack Analysts.
In This Edition:
2:40: Discussing the different types of proposals that were submitted to ServerlessConf NYC 2017.
7:08: What is DevOps in the serverless world?
10:48: What is the next tool generation looking like in terms of the context surrounding DevOps?
15:38: Exploring other themes seen in the speaker submissions at ServerlessConf.
20:50: Subramanian's thoughts on the transformation in the DevOps and container architecture market going forward.
24:05: How going serverless has accelerated technologies and architectures and will continue to do so in the future.
Title image of 810 Seventh Avenue in New York City, where ServerlessConf is being held this year, by Americasroof, licensed under Creative Commons 3.0.