Tech-y Gifts for Geeks: The 2017 Edition
Dec 24th, 2017 3:00am by
Tech is an industry that's low on traditions, since it's always forging new ones. But there's still a few things that are dear to most of us all…
As we all settle down for our long winter's nap — or at least, for a break from a wild year in tech — are you still searching for gifts for that special geek in your life? Because it's hard shopping for geeks — and just in case you're trying to pull off a last-minute holiday miracle — here's what we'd really wanted for the holidays.
A Pet Robot
As our technology gets more powerful, new things become possible. So like many geeks, I've spent the 21st century secretly wishing for my own personal robot. (Or a fun facsimile.) Well, along comes Cozmo, a state-of-the-art robot toy with adorable animated eyes (on a screen that's its face) and some cute pre-recorded noises to simulate emotions. Cozmo is also equipped with a camera, and "One of the first things you're prompted to do — using the ubiquitous companion app — is to use its facial recognition software to teach it who you are," reports Steve Dinneen, the lifestyle editor of City A.M., "after which it will address you, and a bunch of other people, by name."
https://youtu.be/KJ0iSJ-9dwY
Dinneen notes that the camera also makes it possible to see what Cozmo sees (as it's wheeling around your living room floor) since it can beam video footage directly to an app for your phone. "Set it on the ground in 'explore' mode and it will pootle around, avoiding walls and crevices thanks to an array of clever sensors, occasionally hoisting its digger arms into the air and singing little songs in sheer joy at being granted a shallow imitation of life."
But aspiring coders — young and old — can also instruct their compliant new minion using MIT's programming language Scratch. There's even a Cozmo SDK, described in a promotional video as "affordable, intuitive, and connected robotics platform," along with an inspiring assurance that "robotics for the masses is no longer a far-off fantasy — it's now."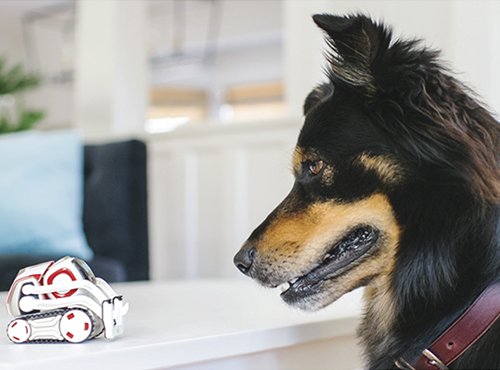 But it's not your only choice for an educational toy robot. There's also a Star Wars Droid Inventor Kit which looks just like R2-D2, courtesy of littleBits, makers of what they describe as "a platform of easy-to-use electronic building blocks" for building your own inventions. Okay, it's not life-sized — it's 16-inches tall — but you get to build it yourself, and even customize it with stickers. (Because why just settle for a blue R2-D2 when you could have one that's orange, red, or Christmas green?)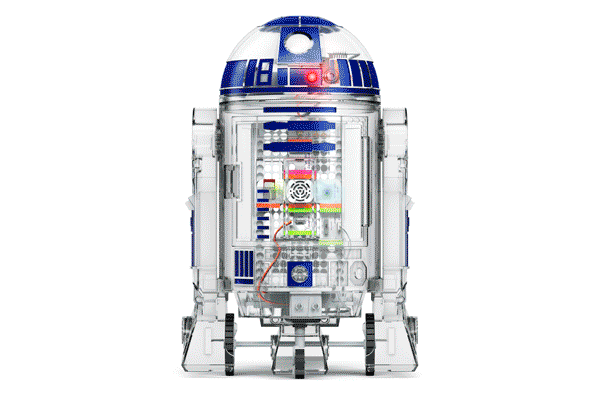 Your droid inventor kit also comes with a custom app — so instead of a paper booklet with instructions, there's video tutorials. And it also offers some pre-programmed missions that show off the droid's capabilities — for example its built-in proximity sensor, which will also let you nudge the droid forward as though you're commanding it with the Force. At least one satisfied parent already gave it a gushy review on Amazon. "The Star Wars music in the app is so cool, we had goosebumps."
In fact, it's already sold out on Amazon, where the answer to the first frequently-asked question is:
"Yes, fellow inventor. This is the Droid you're looking for."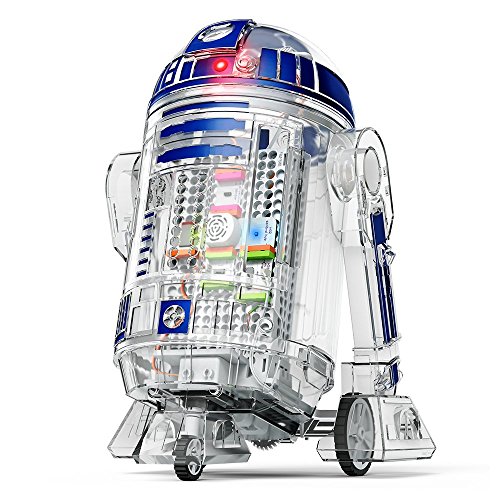 Glasses from Outer Space?
What else were geeks dreaming about in 2017? Chances are even before "Star Wars" came out, they'd spent some time thinking about space. This year NASA launched their first reusable rocket from Space X, the Cassini spacecraft plunged into Saturn, and the moon blocked out our sun for 7 minutes and 29 seconds.
As your favorite geek remembers an exciting year of space exploration, why not raise a cup o' kindness yet to the planets themselves — decorated beautifully with the planets — courtesy of your friends at ThinkGeek.com.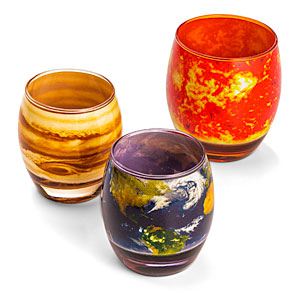 The site's writers describe the glasses with their usual scientific flair. ("If you're drinking water out of these glasses, chances are some of those water molecules are older than the solar system depicted…") Imagine filling the glass cabinet in your kitchen with Mercury, Venus, Earth, and — wait a minute, why are there 10 glasses? Because ThinkGeek has generously included an extra glass for the sun — and one for formerly-considered-to-be-a-planet Pluto! ("We knew that'd make you happy," explains the product description.)
Although because scientists now consider Pluto to be only a mere "dwarf planet" — the Pluto glass is a little bit smaller than the rest. And the sun's glass is a little bigger…

Just don't treat them like real planets, exposing them to harsh cosmic rays (or terrestrial heating rays). Because although the temperature of the sun is 27 million degrees Fahrenheit — the sun's glass isn't microwave safe. Or dishwasher safe. In fact, the planet glasses are all pretty fragile.
But they sure are lovely to look at…
A Polyvinyl Chloride Disk Player
Before iTunes — and before CD players — there was this technology called a "phonograph" that extracted sound recordings from discs made of polyvinyl chloride. And while society struggles with what to do with all those left-over vinyl records, here's a novel idea — why not listen to 'em?
Innovative Technology is one of several companies that still manufactures one of these novel record-playing devices — now with its speakers built right in. You can even pipe music (and other audio) from your phone into the record player's speakers. It's available in a wide variety of colors and patterns. (American flag! Camouflage! Purple Glitter! Tie Dye!) And if you want to combine your gift of music with the grandeur of space, there's even a special "Galaxy" edition — just in case the first vinyl record you want to listen to is John Williams' 1977 Star Wars soundtrack.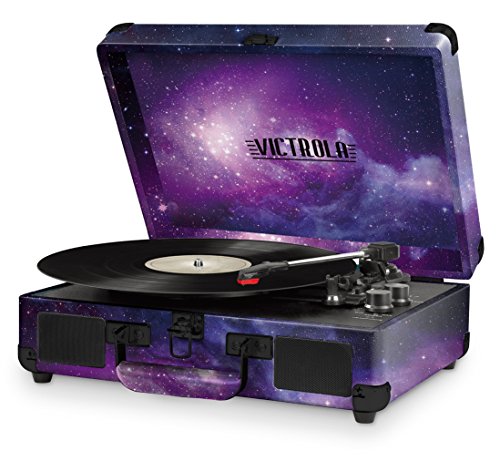 Another high-end phonograph was crowdfunded this year on Kickstarter by a team of audio engineers and design professionals. Even with a holiday discount the +Record player costs over $800, but it has a few extra tricks. For example, it has a USB input/output drive, so you can use it to rip MP3s of your favorite vinyl-record tracks.
If you can't get the whole Victrola, you could at least spring for a nice Bluetooth speaker. In fact, why not have a magnetically levitating Bluetooth speaker — shaped like Darth Vader's Death Star!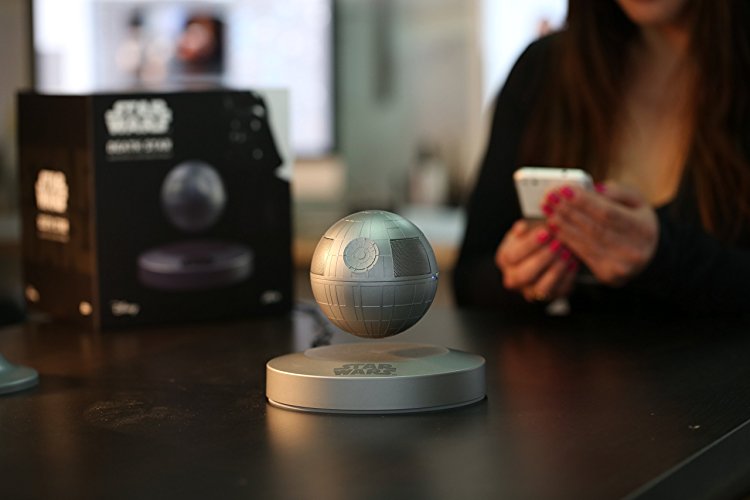 A 40-Year-Old Golden Space Record
But there's one record that's actually traveled through space — a 54-minute collection of the sounds of earth, launched into space on the Voyager space probes in 1977. There's spoken greetings, bird songs, and even a sampling of earth music, including classical works, rock and roll, and even some 20th-century jazz. (Imagine what the aliens will think when they hear Louis Armstrong and his Hot Seven performing "Melancholy Blues.")
Pressed into gold-plated disks, the "Voyager Golden Record" (and the two research spacecraft that carry them) have long since become the most-distant object ever launched by humankind. (They're now headed out of our solar system and into the vast mysteries of interstellar space.) To honor the disks on their 40th anniversary this year, some of its biggest fans pressed a special commemorative edition so we could all share in the fun.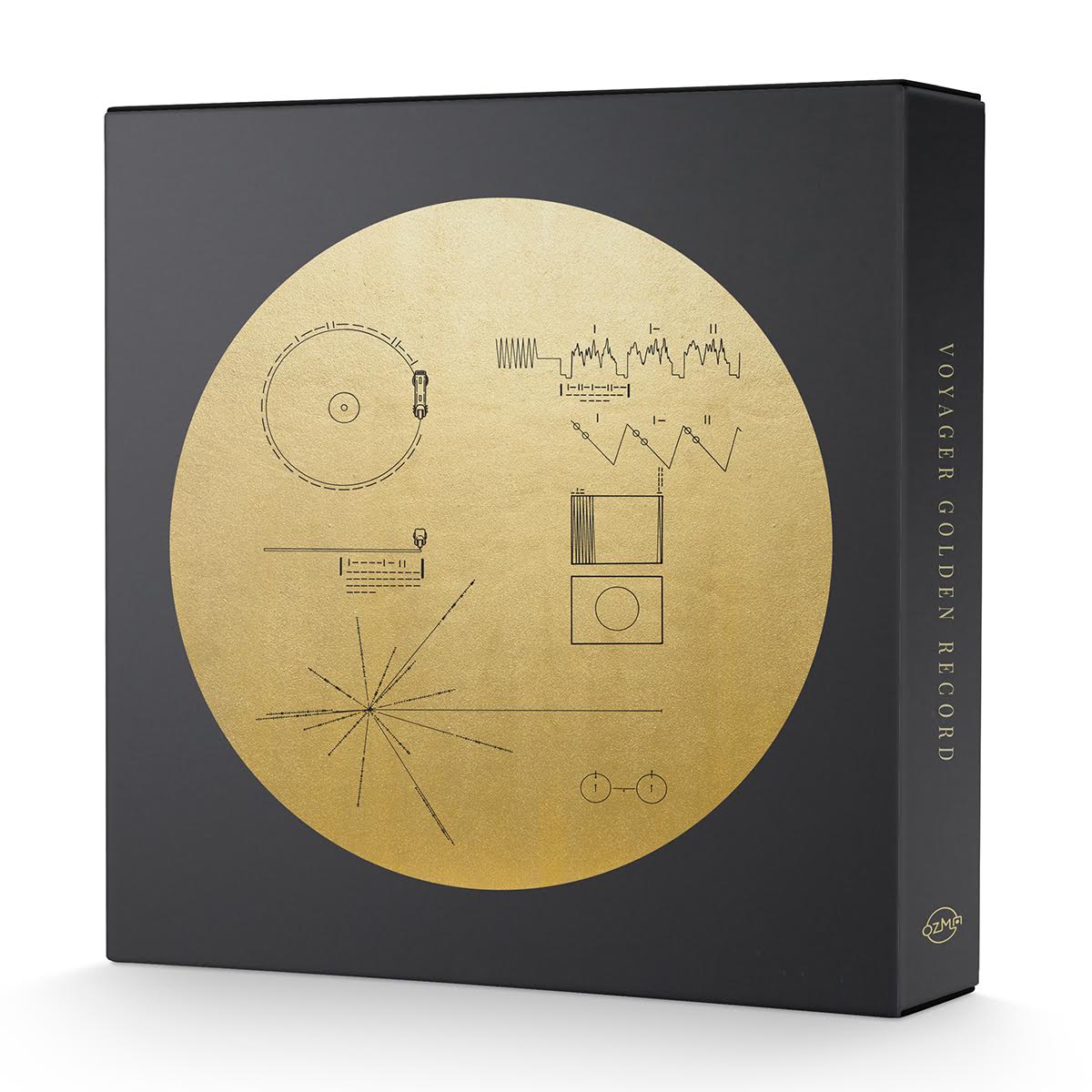 Over 10,000 backers pledged over $1.3 million to bring the "Voyager Golden Record: 40th Anniversary Edition" to life — though unfortunately, it's back-ordered until mid-February.
A Watch Made of Wood
In our modern world of high-tech miracles, it's always fun to go retro, especially with something you use every day. And Jord's wooden wrist watches are about as low-tech as you can get.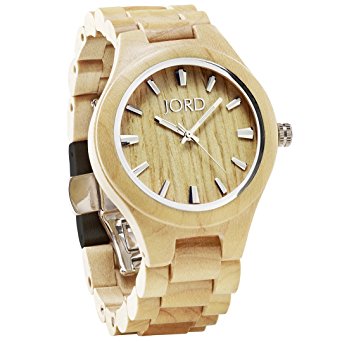 It's like something the Professor on "Gilligan's Island" would build out of driftwood — and it really makes a statement. (Like "There are too many hard, cold, and impersonal things in my life built from plastic and metal" or "I don't want a watch that can pair with an iPhone…")
And of course, it's delivered in a wooden box too.
Instead of colors, you get a choice of wood — specifically maple, sandalwood, or zebrawood — all lovingly "hand-sanded and polished to a smooth, durable finish." But they all offer a visually-appealing way to get back to nature in the construction of your timepiece.
Or, in the words of one Amazon reviewer: "Such a simple, yet stunningly beautiful timepiece."
A Typewriter Running Vim
If there's one thing I know about geeks, it's that they love to think big, to think retro, and to argue endlessly over their favorite text editor. But one geek combined them all into a spectacular weekend project — piping the real-world keystrokes from an old typewriter into their beloved text-editing software vim.
The secret ingredient was an off-the-shelf hardware/software package — specifically Spectra Symbol's "SoftPot" — plus a Raspberry Pi board to pipe the output into his monitor.
If you're feeling really ambitious, maybe you could recreate this for the geek in your own life.
Or maybe just buy up all the parts — and let them try building one for themselves!
Happy holidays, everyone!
---
WebReduce
YOUTUBE.COM/THENEWSTACK
Tech moves fast, don't miss an episode. Subscribe to our YouTube channel to stream all our podcasts, interviews, demos, and more.