This Week in Numbers: Did AWS Lambda Win Serverless?
May 19th, 2018 9:00am by
Last week we saw a headline proclaiming that Amazon Web Services won serverless. We've already written about all the data presented in that article, but we came away with a different conclusion. To clarify matters, we re-ran the Cloud Native Computing Foundation survey data to include 187 responses that came from a supplementary survey to a Mandarin-speaking audience. Then, we looked at how usage of cloud providers for containers differed as compared to those companies' functions as a service (FaaS) offering.
Almost every one of the 761 people CNCF survey respondents already use containers, so we know that the sample was of at least relatively early adopters. Of this group, two-thirds deploy containers to an AWS environment. When just looking at the 29 percent of the sample that uses serverless, about three-quarters said they use AWS Lambda. That is 43 percentage points more than its nearest rival, Google Cloud Functions.
That type of stat had Leading Edge Forum's Simon Wardley to tweet that Amazon is positioned to own the lion's share of all future software. That is hyperbole. What the data proves is that AWS is widely used by cloud-native practitioners. We expect that as serverless expands and deepens that enterprises will continue to utilize multiple clouds, with AWS usually being part of the mix. In that situation, the serverless roadmap would look closer to a SlashData report we wrote about in March. Although that data indicated some dissatisfaction with Google Cloud Functions, it was an overall positive indication that both Microsoft and Google won't lose a lot of customers to developers looking to use serverless architectures.
It is indisputable that AWS is the public cloud leader by a wide margin. However, that does not mean the battle for second and third is insignificant, nor does it mean that individual providers will outshine AWS for particular service types. Instead of looking at the aforementioned horse race, we are more interested in the percentage of workloads that will use FaaS, as well as whether serverless compute will be provided on-premises?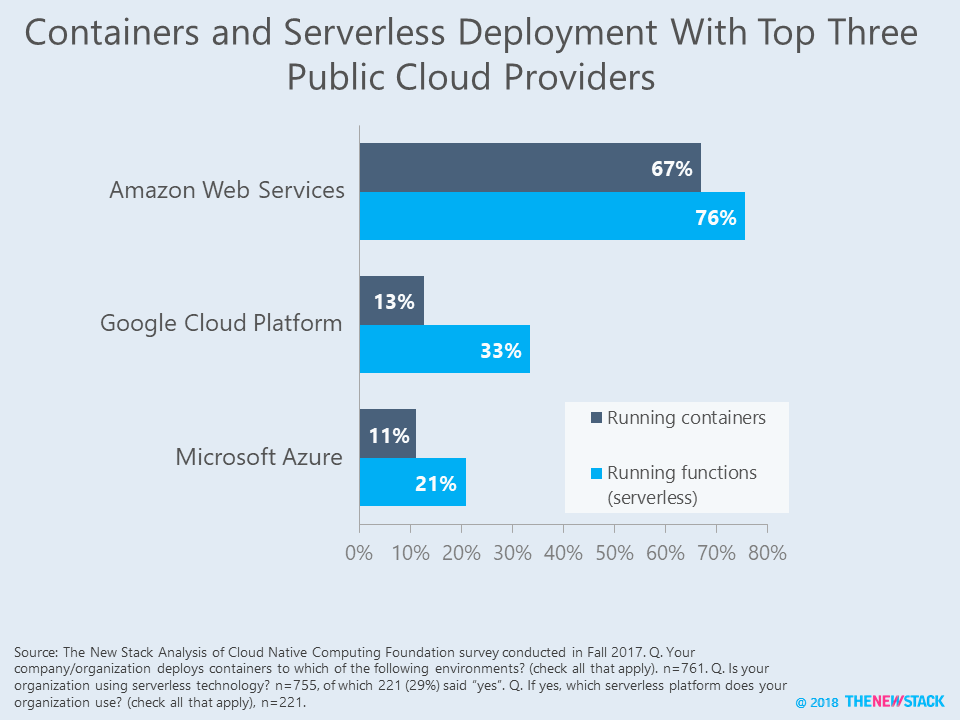 The Cloud Native Computing Foundation is a sponsor of The New Stack.
Feature image: Simon Wardley at Kubecon + CloudNativeCon in Copenhagen.