This Week in Numbers: More Stateful Apps as Kubernetes Packaging Improves
May 12th, 2018 9:00am by
Three years ago containers promised the ability to move applications between different environments. However, the realities of varying configurations across clouds, especially for stateful applications, has slowed the uptake of Kubernetes as a platform for application deployment. This may not hold true much longer based on both data from a survey of 380 Kubernetes users and the buzz coming from KubeCon + CloudNativeCon EU 2018.
Conducted by the Kubernetes Application Definition Working Group, the survey found that 55 percent of participants are deploying databases. That level of adoption is significantly higher than the 32 percent doing so when The New Stack surveyed production Kubernetes users last year. This leads us to believe that organizations have a higher capacity to manage stateful applications on Kubernetes.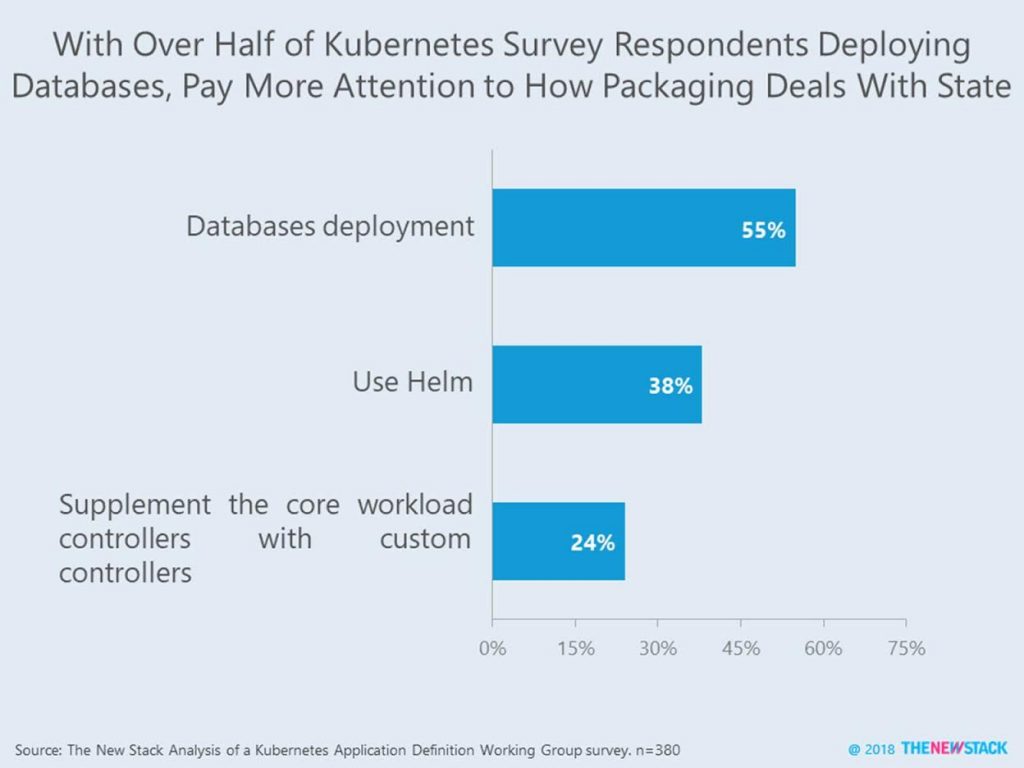 As of today, 38 percent of Kubernetes users are also using Helm, with another 24 percent "evaluating" it. As Helm use increases, people may look to operators instead of custom controllers to help with the deployment of Kubernetes-related infrastructure and stateful applications.
Helm already exists to help with packaging applications, but it has some difficulties with stateful applications that are often associated with the cloud infrastructure. This is where "operators" come into play. Based on work by CoreOS and now Red Hat, the Operator Framework builds on the concept of Helm charts to make it easier to package and manage infrastructure components like etcd, Prometheus, Rook and Vault.
It is noteworthy that according to the survey a little less than 12 percent manage applications on Kubernetes with Red Hat OpenShift templates. Only nine percent of the OpenShift template users also use Helm. Perhaps that will change now that Red Hat is pushing the benefits of the Operators Framework.
The Cloud Native Computing Foundation, Kubecon + CloudNativeCon and Red Hat are sponsors of The New Stack.
Feature image by Vítor Santos on Unsplash.
YOUTUBE.COM/THENEWSTACK
Tech moves fast, don't miss an episode. Subscribe to our YouTube channel to stream all our podcasts, interviews, demos, and more.