This Week in Numbers: Saving Time and Money with Cloud Foundry and Other Application Platforms
Apr 21st, 2018 9:00am by
Cloud Foundry users save time and money according, yet so do users of other application platforms. No matter what solution you are considering, make sure to assess a wide range of factors associated ROI, TCO and KPIs associated with the software development lifecycle.
The April 2018 Cloud Foundry User Survey reports that the average respondent saved 10 weeks per application development lifecycle. Furthermore, 54 percent reported or more per application lifecycle. No one reported increased costs but that was because they weren't given the option to report that in the survey.

The conclusion that Cloud Foundry users are reducing development time and reducing costs is supported by the findings in many other studies. This just proves that application platforms are doing what they claim to do. For example, among the 9 case studies IDC conducted for The Business Value of Red Hat OpenShift, application development lifecycles declined from 28 to 10 weeks after OpenShift adoption.
Other types of application platforms also reduce the time needed to create an application. For example, a survey by OutSystems reports that users of low-code platforms were 20 percentage points more likely to deliver a complete mobile application in less than six months.
While platforms produce great benefits, so do the associated practices that are often initiated alongside the platform's deployment. As we have noted in the past, adoption DevOps processes and microservices architectures are strongly correlated with continuous delivery and container deployment platforms. The 2017 State of DevOps Report shows that DevOps helps IT performance by reducing, deployment frequency, lead time for changes, MTTR and the rate of change failure. That report and a survey commissioned by CA Technologies are just two reports that show that the time savings can have a direct impact on the businesses by making product development more effective.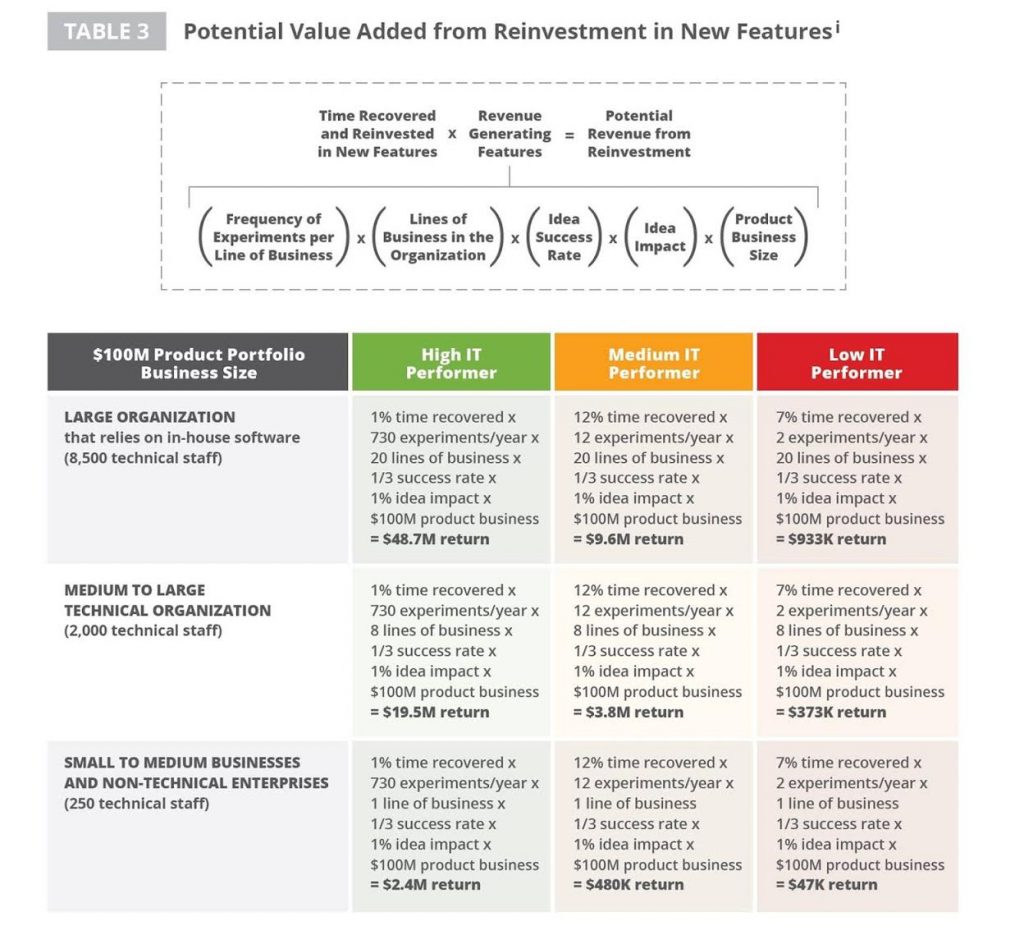 Source: 2017 State of DevOps Report.
The Cloud Foundry Foundation is a sponsor of The New Stack.
Feature image via Pixabay.