Van Life: Developers Who Find a Home on the Road
Oct 29th, 2017 6:00am by
Feature image: Santiago Garza (
via
Flickr).
In 2015, a 24-year-old Tesla engineer discovered he could pay off $14,000 from his student loans just by living for five months in a Dodge van, while eating and showering at Tesla's Silicon Valley campus. It worked out quite well, and when he moved out of his van, he was even able to sell it on Craigslist for a $2,000 profit.
What he didn't anticipate, however, was how much he missed the lifestyle.
He's not the only one. At about the same time a 23-year-old software engineer at Google discovered he could save 90 percent of his income by living in a Ford van — also eating and showering at work. Within four months he'd paid off nearly $8,000 of his student loans — while still having enough money to eat out in the area's nicest restaurants. In one remarkable blog post, he describes the day campus security finally caught up to him.
"They tell me to have a nice night, and even apologize for waking me up." Even though he eventually left Google, after two years — he's still living in his van.
Back in April the New Yorker ran a detailed profile of Emily King and Corey Smith, who were inspired by a chance meeting with Foster Huntington, a former Ralph Lauren designer who'd left his New York City apartment — and his job — to live for years in a 1987 VW van. "They figured they could live cheaply in a van while placing what they loved — traveling, surfing, mountain biking — at the center of their lives," the article explains, noting the special ingredient which helped make it all possible. King's new job as a web developer allowed her to telecommute.
https://www.instagram.com/p/Bab08u6F626/?taken-by=wheresmyofficenow
This couple's journey got off to a rocky start. "On the first day, the van slid backward down an icy hill and had to be towed," they reported. But over time Smith began bartering for discounts on his van repairs — sometimes worth thousands of dollars — by promising publicity on their social media account, and soon they were also being paid to post specific products on their Instagram feed. Sponsors included Clif Bars and Kettle Brand potato chips and the couple's total income in 2016, mostly derived from social media, came to $18,000. Now they're earning their money by "creating content" for their social media feeds, though King insists they only endorse products where there's a connection.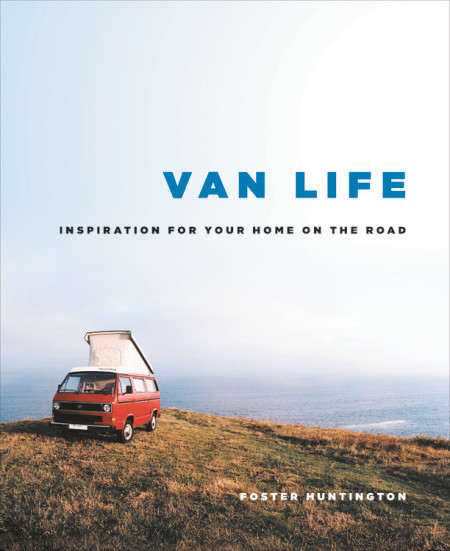 In fact, living-in-a-van has become a minor movement. The New Yorker points out there are now over 1.2 million Instagram posts tagged #VanLife. Back in 2013 Huntington even raised $65,676 from 966 backers on Kickstarter to fund a hardcover coffee table book about the whole living-in-a-van lifestyle. "For the last two years, I've been put 80 thousand miles on my camper traveling around North America," Huntington explained in his pitch, noting he's met other travelers whose vehicles became "enablers of lifestyles" and promising to document them in a book of photos — along with their stories. Now in its fourth printing, he's just published a second book this month.
The New Yorker's article sees it as "a trend born out of the recent recession" — and Corey Smith seems to agree. "We heard all these promises about what will happen after you go to college and get a degree. We graduated at a time when all that turned out to be a bunch of bullshit."
It isn't just young people, or the tech elite, who are taking to the open road. Amazon has hired thousands of senior citizens in RVs to handle their seasonal workload, according to a new book called "Nomadland." They also picked up odd jobs harvesting sugar beets or working as hosts at national parks. According to the book, many of them "could no longer afford traditional housing."
This month there was a new story — the tale of a Germany-based software engineer for GitHub who's also still living in his vehicle — in this case, a 1984 Mercedes-Benz 209D camper van. Earlier this year he'd installed solar panels (and roof-top antennas for his mobile WiFi router), and on May 11, 2017, he set off for his great geeky road trip.
He identifies himself only as Jakob, but you can almost feel the exhilaration in his first blog post from the road. "We successfully tested the fridge and enjoyed some cold beers at a lake near Berlin… What a great feeling: We can sit down, enjoy the sunset and have some beers without worrying about how to get back home."
Jakob spent his first two days testing the concept by parking near his house. "Everything worked like a charm: video calls, screen sharing and pairing sessions. No lags or any connectivity issues." He purchased a steady supply of 4G connectivity with prepaid SIM-cards from an Italian carrier (which has also gotten him online in France, Spain and Portugal) — and soon it was time to blast off. "I'm not on vacation so there's no budget or time limit. I'm all free. Let's see where the roads take me!"
He's been documenting his adventures in a blog in his GitHub repository, writing about his first technical issue — a puddle of oil — or that time he got locked out of his own bathroom. Every coder knows there's a web application framework called Ruby on Rails. But his blog's tagline is "Ruby on Wheels — a developer on the road."
Jakob turned the camper's bathroom into a storage room for his bike, and he doesn't seem to have any trouble using public restrooms. (Except that time police officers wanted to see if he could pass a drug-screening urinalysis — right after he'd pulled out of a rest stop). This month he posted an update after his 150th day on the road. "Since I left Berlin in May I visited 6 countries, drove more than 12,000 km, collected more than 180,000 Wh of solar power and met a lot of interesting people."
The most interesting thing may be the effect it's having on his work. "As a remote software engineer, I can work when I feel productive and rest when my brain is tired," Jakob writes. And yet before his big road trip, he just wasn't taking advantage of that — missing chances for those long naps in a hammock or sunny strolls in the park. Living in the van filled his need for a vacation, and brought back to his life that missing spontaneity. "When the waves are great, I go surfing… When it's hot, I go for a swim. When I'm tired, I sleep. When I like a place, I stay…"
And of course, "When my van breaks, I try to get it fixed."
But reducing his commute time to zero leaves him more time for home cooking — which ends up being healthier. And life on the road has other advantages too.
"The van life allows me to better integrate personal activities into my work routine because everything is closer: There are people around who tell me stories unrelated to programming. There's a hammock right in front of my van for taking a relaxed nap outside, a workout park where I can do pull-ups and dips or a beach where I can take a sunbath to get my daily fill of vitamin D."
Jakob is telling the world that his new life is simpler — and happier. "As a Spanish traveler once told me, 'The sun rises every day.' I feel very balanced and am looking forward to all the things ahead of me!" Even the uncontrolled events somehow merge into a smooth flow. "Things just happen without too much planning."
"And sometimes I just do nothing but relaxing in my hammock."
He's not the only one, according to comments about his story on Hacker News. "I also live in a vehicle," posted a user named Driverdan. "I have a 25ft (7.6m) former airport shuttle bus I've converted to my home…"
https://www.instagram.com/p/BU3F8HvlmkS/?taken-by=driverdan
"i worked remotely for 5 months in a class C RV," added another commenter, "in some really remote areas, across 36 states total… when done, i sold the RV for the same price i bought it for, saw a lot of the US, saved $12k on rent, spent $2k on gas and $700 on tires, $200/mo on internet… i got a LOT for my money."
"In Australia I built a van out of something like a Toyota Hiace for less than $500 + the cost of the van," added a third comment. "I travelled in it for a year, living in it for well over 6 months of that, and sold it at the end. "
"We are in a camper now 3 years…" added a fourth commenter. And the stories kept on coming…
https://www.instagram.com/p/BaE42VglKAi/?taken-by=wheresmyofficenow
---
WebReduce