This Week in Numbers: Co-Location Not Hurt by the Public Cloud Boom
Oct 7th, 2017 12:00pm by
Cloud providers and hyperscalers continue to build new data centers. The public cloud continues to grow while enterprise data centers continue to face tightening budgets. Given that environment, you would expect that Amazon Web Services, Apple, Microsoft and other hyperscalers of the world would be the leading buyers of real estate for data centers. But this is not always necessarily true. According to CBRE, in the first half of 2017 hyperscalers were busy digesting what they bought and leased in 2016. In that time period, of the 12 large deals tracked by CBRE, only five were purchases by companies planning to own or operate a data center. The remaining purchases were speculation by investors hoping to eventually sell to a hyperscaler or co-location provider.
In fact, some large customers looking for improved latency may start to demand that their cloud services be hosted in the same facilities as their co-located IT infrastructure equipment.
A recent report published by Schneider Electric and 451 Research shows that public cloud will continue to grow at the expense of enterprises run data centers. It also shows that many more companies are migrating workloads from co-location to public clouds instead of in the opposite direction – 62 percent vs 41 percent. What's fascinating is that this will not impact the 2020 outlook for co-location – it will remain approximately the same percentage of total data center capacity in terms of square feet. As the public cloud grows, co-location customers say corporate-owned facilities will drop from 39 percent of data center space today to 34 percent in two years.
Co-location companies appear to be maintaining viability for two reasons. First, enterprises are much less likely to build a new data center. Even if they plan to continue operating private clouds, they are more likely to look to a third-party to lease the facilities. Second, public cloud providers have increasingly become customers and partners for co-location providers. 451 Research research director Rhonda Ascierto believes this trend will continue for at least the next five years. In fact, some large customers looking for improved latency may start to demand that their cloud services be hosted in the same facilities as their co-located IT infrastructure equipment. Although none of the 454 co-location customers surveyed said it was extremely important, 32 percent did say this was very important.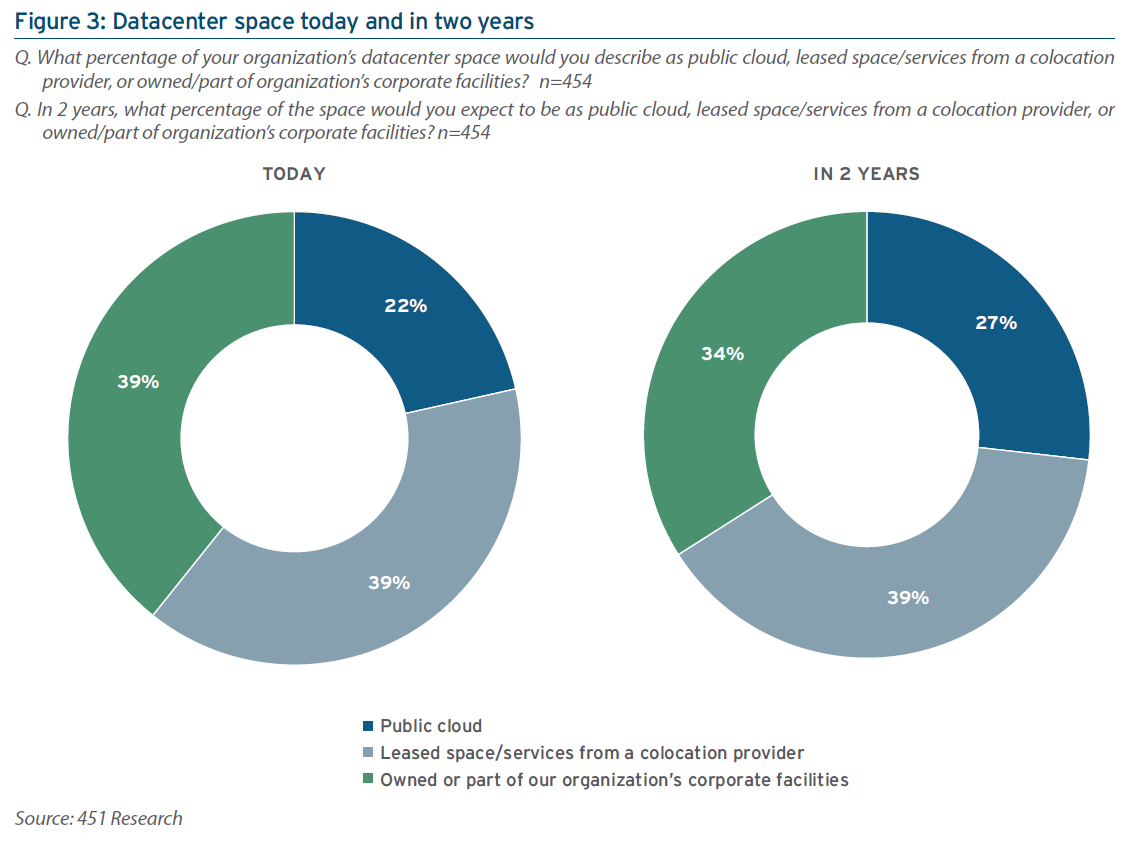 ---
Reading too much about distributed systems will make your brain rot. This week we save the day by focusing on what you really care about — video games. Did you know that 48 percent of developers create games? Most are doing so for fun. In one report, Developer Economics: State of the Developer Nation Q3 2017, which I co-authored SlashData, eight percent of their survey respondents develop games professionally.
Just like in other software ecosystems, decisions to write programs for a platform end up having a large impact on the hardware platforms that end up in your living rooms. Smartphones and desktops continue to be the platform targeted most often for games. The platform choices for these form factors are about the same for gaming as with other types of applications. Traditional consoles like XBox and Sony PlayStation are on the verge of being passed by.
Forty-eight percent of developers create games
The same percentage of developers target these platforms as they do mixed reality headsets. For virtual reality headsets, Oculus is the leader, targeted by 60 percent of game developers working on applications. Google SDKs for both the low-end (Cardboard) and high-end (Daydream) are the second and fourth most targeted platforms. Among the game console producers, Valve's Steam VR has more significant uptake than those from Sony and Microsoft. In comparison, the sister market of augmented reality headsets appears to favor the incumbents in the more mature markets.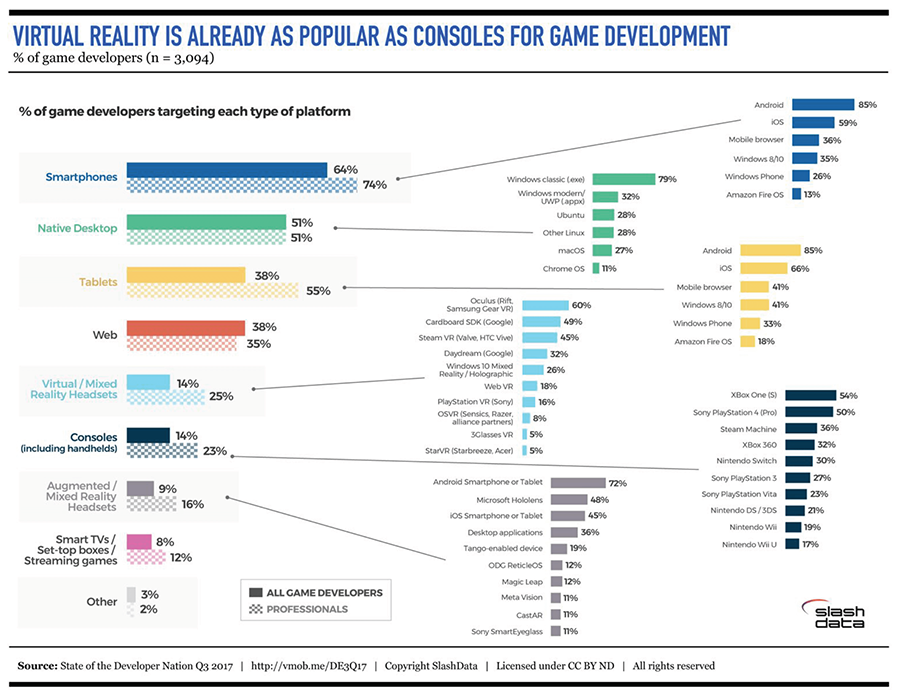 Google and Microsoft are sponsors of The New Stack.
Feature image via Pixabay.