This Week in Numbers: New Monitoring Methods for Kubernetes
Sep 16th, 2017 9:00am by
Our new report, The State of the Kubernetes Ecosystem reports on a survey of 470 container users, 62 percent of which were at least in the initial production phase for the Kubernetes open source container orchestration engine. After further screening, we were able to get detailed information from 208 people about the storage and monitoring technologies they use with Kubernetes.
Prometheus is by far the most cited tool among our survey respondents for monitoring Kubernetes clusters. Heapster, however, has also gained significant adoption among our group. Traditional monitoring vendors are not faring as well, although usage levels for their tools appear to increase when they are being integrated into a larger, custom monitoring platform.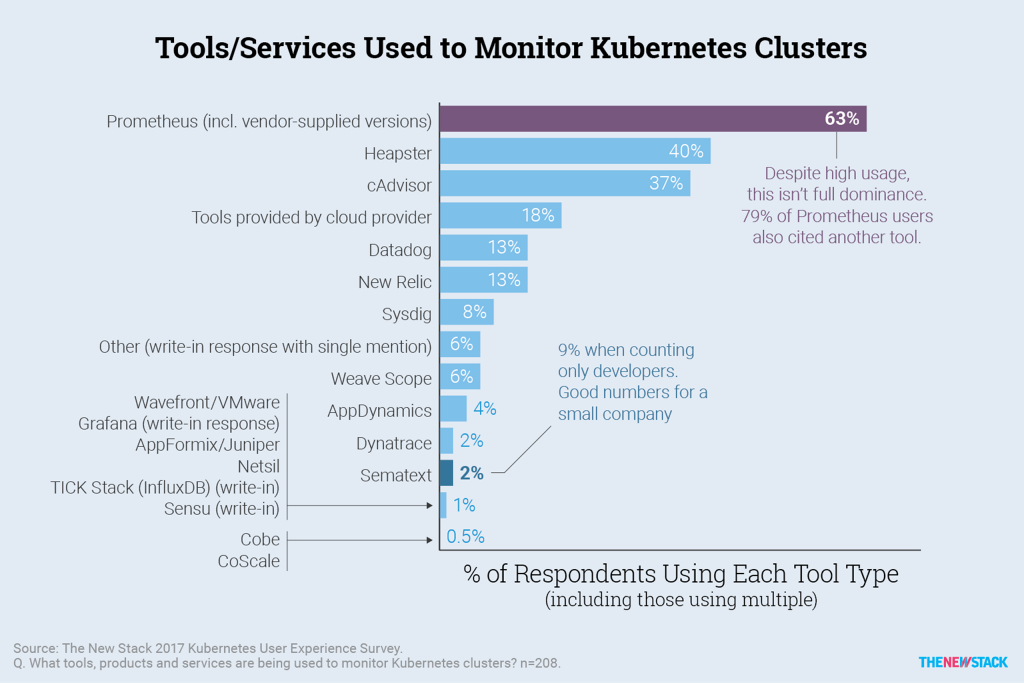 Cluster Monitoring
Organizations' choices of monitoring tools for use with Kubernetes speaks volumes about their application deployment strategies. An organization may prioritize monitoring its infrastructure over its applications, or vice versa. Which target an organization chooses speaks to who does the monitoring: developers or operators.
[cycloneslider id="kubernetes-series-book-1-sponsors"]
We gave Kubernetes users a long list of systems monitoring tools of various types and asked them to choose any and all that were being used with their deployments. We gave respondents an opportunity to write in alternatives that we had not listed.
Among those responding, some 63 percent monitor their clusters using Prometheus, the services monitoring components whose project, like Kubernetes, is shepherded by The Cloud Native Computing Foundation. But this doesn't mean Prometheus has already achieved dominance over other tools and strategies, as some 79 percent of those who cited Prometheus also cited another tool. The modern data center monitoring strategy typically involves either acquiring an amalgam of tools intentionally, r piecing them together from what the data center has already used for years. In fact, the average organization we've polled uses 2.2 technologies to monitor its clusters.
Also widely cited as having been adopted are Heapster (40 percent), which monitors resource usage events for Kubernetes specifically; and cAdvisor (37 percent), a resource usage monitor created for Docker containers.
Sematext has more visibility among application developers. Some nine percent of developers responding say they use its Kubernetes Agent, which is four times greater than the full sample — a good number for a small company.
Pairing Resource Monitors Together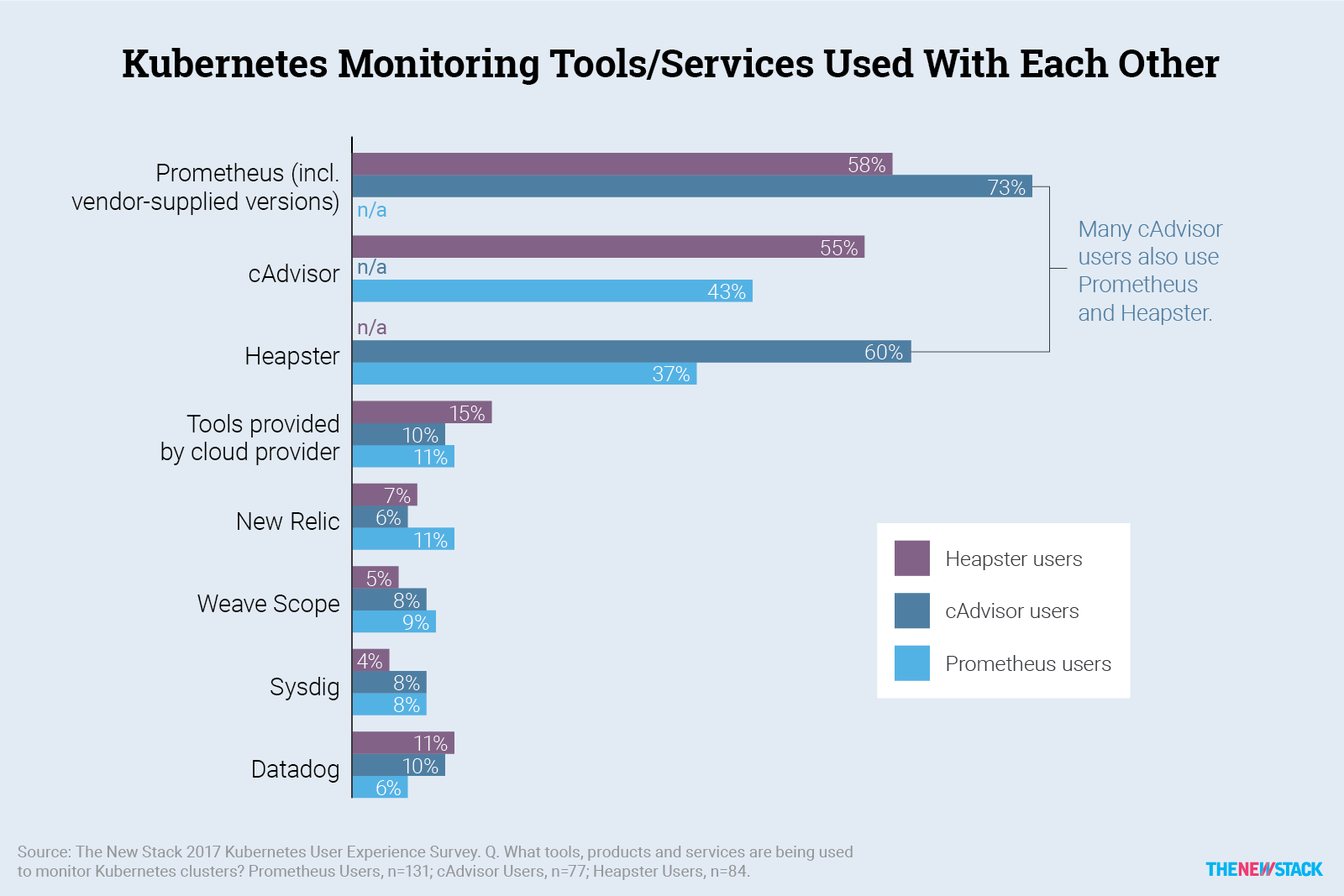 Prometheus' project leaders could strengthen its position in the data center by continuing the strategy of integration with other tools. The prospects for this are especially strong with cAdvisor, 73 percent of whose users also use Prometheus, while some 60 percent of cAdvisor users also have Heapster. Since cAdvisor provides data inputs to other tools, its integration-by-design strategy makes perfect sense.
DevOps professionals in our survey revealed a more hands-off approach to managing Kubernetes, stating they were less likely to use Heapster and cAdvisor. However, they were also less likely to use tools provided by a cloud provider (six percent versus 18 percent of all respondents). By definition, DevOps should be the convergence point for application and systems monitoring. If indeed such a convergence point exists, then application operators should be paying attention and weighing in on their organizations' monitoring strategies — especially as they're being cobbled together from vendor-based and open source options.
Traditional application performance management (APM) and infrastructure monitoring vendors are much less likely to be cited by Prometheus users. Datadog monitors Kubernetes clusters for about one non-Prometheus user in four. If Datadog's customers are satisfied with the monitoring strategy they've already employed, they may not end up using Prometheus at all. Absent that, incumbents will have additional opportunities as some users look to full stack monitoring solutions.
The Cloud Native Computing Foundation is a sponsor of The New Stack.
Feature image by Jesse Gardner on Unsplash.